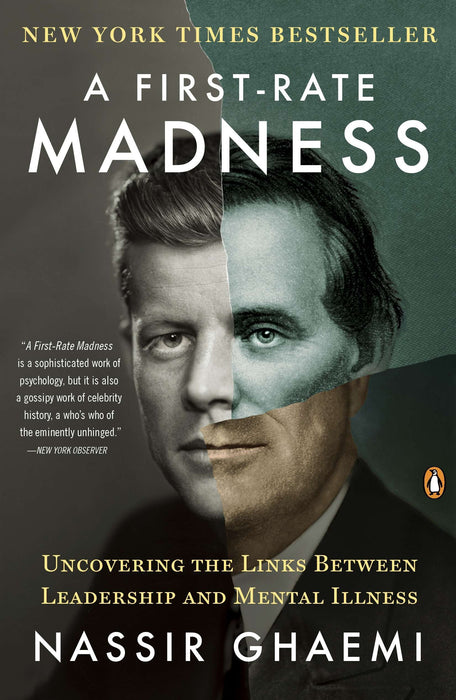 A First-Rate Madness: Uncovering the Links Between Leadership and Mental Illness
Author: Nassir Ghaemi

Paperback:
Publisher: Penguin Books
ISBN 10: 0143121332
ISBN 13: 978-0143121336

Hardcover:
Publisher: Penguin Press
ISBN 10: 1594202958
ISBN 13: 978-1594202957

This New York Times bestseller is a myth-shattering exploration of the powerful connections between mental illness and leadership. Historians have long puzzled over the apparent mental instability of great and terrible leaders alike: Napoleon, Lincoln, Churchill, Hitler, and others. In A First-Rate Madness, Nassir Ghaemi, director of the Mood Disorders Programme at Tufts Medical Center, offers and sets forth a controversial, compelling thesis: the very qualities that mark those with mood disorders also make for the best leaders in times of crisis. From the importance of Lincoln's "depressive realism" to the lacklustre leadership of exceedingly sane men as Neville Chamberlain, A First-Rate Madness overturns many of our most cherished perceptions about greatness and the mind.