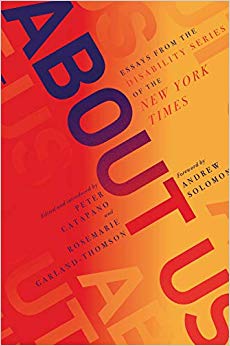 About Us: Essays from the Disability Series of the New York Times
Author: Rosemarie Garland-Thomson
Publisher: Liveright
Hardcover:
ISBN 10: 1631495852
ISBN 13: 978-1631495854
Based on the pioneering New York Times series, About Us collects the personal essays and reflections that have transformed the national conversation around disability.
Boldly claiming a space in which people with disabilities can be seen and heard as they are―not as others perceive them―About Us captures the voices of a community that has for too long been stereotyped and misrepresented. Speaking not only to those with disabilities, but also to their families, coworkers and support networks, the authors in About Us offer intimate stories of how they navigate a world not built for them.
Since its 2016 debut, the popular New York Times' "Disability" column has transformed the national dialogue around disability. Now, echoing the refrain of the disability rights movement, "Nothing about us without us," this landmark collection gathers the most powerful essays from the series that speak to the fullness of human experience―stories about first romance, childhood shame and isolation, segregation, professional ambition, child-bearing and parenting, aging and beyond.
Reflecting on the fraught conversations around disability―from the friend who says "I don't think of you as disabled," to the father who scolds his child with attention differences, "Stop it stop it stop it what is wrong with you?"―the stories here reveal the range of responses, and the variety of consequences, to being labeled as "disabled" by the broader public.
Here, a writer recounts her path through medical school as a wheelchair user―forging a unique bridge between patients with disabilities and their physicians. An acclaimed artist with spina bifida discusses her art practice as one that invites us to "stretch ourselves toward a world where all bodies are exquisite." With these notes of triumph, these stories also offer honest portrayals of frustration over access to medical care, the burden of social stigma and the nearly constant need to self-advocate in the public realm.
In its final sections, About Us turns to the questions of love, family and joy to show how it is possible to revel in life as a person with disabilities. Subverting the pervasive belief that disability results in relentless suffering and isolation, a quadriplegic writer reveals how she rediscovered intimacy without touch, and a mother with a chronic illness shares what her condition has taught her young children.
With a foreword by Andrew Solomon and introductory comments by co-editors Peter Catapano and Rosemarie Garland-Thomson, About Us is a landmark publication of the disability movement for readers of all backgrounds, forms and abilities.
Featuring Essays from
: John Altmann • Todd Balf • Jennifer Bartlett • Emily Rapp Black • Sheila Black • Sasha Blair-Goldensohn • Cheri A. Blauwet • Molly McCully Brown • Joseph P. Carter • Peter Catapano • Randi Davenport • Luticha Doucette • Anne Finger • Joseph J. Fins • Shane Fistell • Paula M. Fitzgibbons • Kenny Fries • Rosemarie Garland-Thomson • Jenny Giering • Ona Gritz • Elizabeth Guffey • Jane Eaton Hamilton • Ariel Henle • Edward Hoagland • Alex Hubbard • Liz Jackson • Elizabeth Jameson • Cyndi Jones • Anne Kaier • Georgina Kleege • Rachel Kolb • Elliott Kukla • Catherine Kudlick • Emily Ladau • Laurie Clements Lambeth • Alaina Leary • Riva Lehrer • Gila Lyons • Ben Mattlin • Zack McDermott • Catherine Monahon • Jonathan Mooney • Susannah Nevison • Joanna Novak • Valerie Piro • Oliver Sacks • Katie Savin • Melissa Shang • Alice Sheppard • Daniel Simpson • Brad Snyder • Andrew Solomon • Rivers Solomon • Carol R. Steinberg • Jillian Weise • Abby L. Wilkerson • Alice Wong