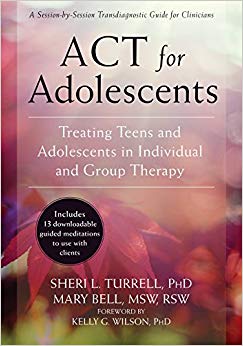 ACT for Adolescents: Treating Teens and Adolescents in Individual and Group Therapy
Author: Sheri L. Turrell PhD
Publisher: Context Press
Paperback:
ISBN 10: 1626253579
ISBN 13: 978-1626253575
In this much-needed guide, a clinical psychologist and a social worker provide a flexible, ten-week protocol based in acceptance and commitment therapy (ACT) to help adolescents overcome mental health hurdles and thrive.
If you're a clinician working with adolescents, you understand the challenges this population faces. But sometimes it can be difficult to establish connection in therapy. To help, ACT for Adolescents offers the first effective professional protocol for facilitating ACT with adolescents in individual therapy, along with modifications for a group setting.
In this book, you'll find invaluable strategies for connecting meaningfully with your client in session, while at the same time arriving quickly and safely to the clinical issues your client is facing. You'll also find an overview of the core processes of ACT so you can introduce mindfulness into each session and help your client choose values-based action. Using the protocol outlined in this book, you'll be able to help your client overcome a number of mental health challenges from depression and anxiety to eating disorders and trauma.
If you work with adolescent clients, the powerful and effective step-by-step exercises in this book are tailored especially for you. This is a must-have addition to your professional library.
This book includes audio downloads.