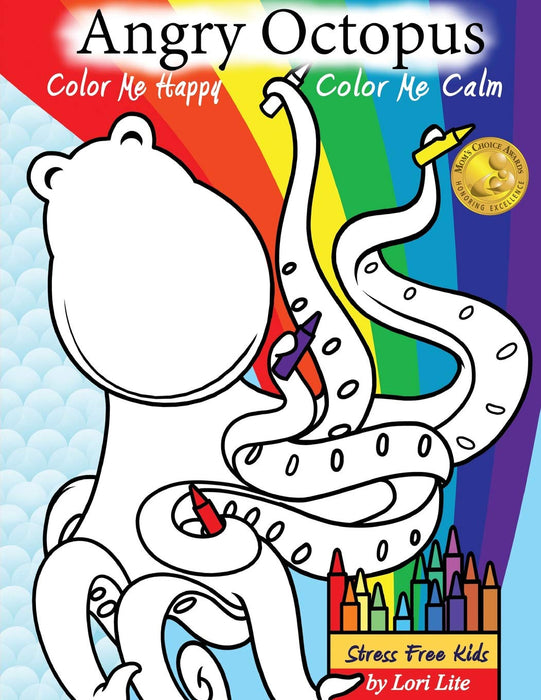 Angry Octopus Color Me Happy, Color Me Calm: A Self-Help Kid's Coloring Book for Overcoming Anxiety, Anger, Worry, and Stress
Author: Lori Lite

Publisher: Stress Free Kids

Paperback:
ISBN 10: 1937985334
ISBN 13: 978-1937985332

Angry Octopus Color Me Happy, Color Me Calm is a light-hearted, self-help coloring book designed to guide 4-11-year-olds and their parents, teachers, or counselors through simple everyday techniques that can be used to control anger, reduce stress, and increase happiness. This interactive coloring book is filled with simple strategies to self-soothe, manage anger, and improve emotional intelligence. Children are empowered to manage their BIG feelings while coloring 76 illustrations. Each mindful page motivates children to express themselves peacefully without having a tantrum, meltdown, or outburst. Dozens of coloring pages designed for children.Underwater Scenes, Garden Designs, Angry Octopus, and Friends, and a Mandala.Each coloring page is designed to help relax, motivate, and introduce an anger or stress management technique in a playful manner.The variety of pages increases emotional intelligence while offering something for every skill level.Each coloring page is on a separate sheet with light-hearted text on the opposite page.User-friendly for children, parents, classrooms, homeschoolers, and private practice.Perfect add on to the Stress Free Kids Curriculum and Lesson Plans.