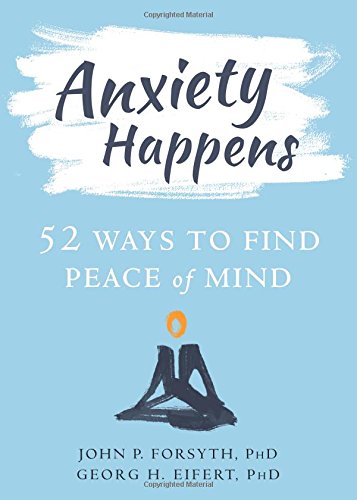 Anxiety Happens: 52 Ways to Find Peace of Mind
Author: John P. Forsyth PhD
Publisher: New Harbinger Publications
Paperback:
ISBN 10: 1684031109
ISBN 13: 978-1684031108
Break free from anxiety—once and for all! From the authors of The Mindfulness and Acceptance Workbook for Anxiety, this powerful yet portable guide offers fifty-two in-the-moment mindfulness strategies you can use anytime, anywhere to cultivate calm and radically transform your life.
We live in an age of anxiety, and studies show that it's only getting worse. Anxiety forces itself into our awareness and can deplete our energy, resources, and resolve. It screams "pay attention to me—or else." We may confront it the moment we wake up in the morning, and it can even keep us from getting to sleep at night. In short, it can run our lives. But it doesn't have to be this way.
Building on the success of The Mindfulness and Acceptance Workbook for Anxiety, this quick reference guide offers fifty-two simple tools and strategies—one for each week of the year—based in proven-effective acceptance and commitment therapy (ACT) to help you break free from worry, fear, and panic. In addition to "in-the-moment" tools for staying calm, you'll learn about the underlying causes of your anxiety, why avoidance just doesn't work, how to move past your negative inner voice, and how focusing on your values can help you move past anxiety and live a rich, meaningful life.
If—like many people—you're fed up with anxiety getting in the way of living your life, the powerful little exercises in this guide will show you how to break the cycle of anxiety for good.

This book has been selected as an Association for Behavioral and Cognitive Therapies Self-Help Book Recommendation—an honor bestowed on outstanding self-help books that are consistent with cognitive behavioral therapy (CBT) principles and that incorporate scientifically tested strategies for overcoming mental health difficulties. Used alone or in conjunction with therapy, our books offer powerful tools readers can use to jump-start changes in their lives.