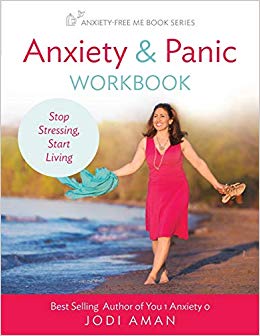 Anxiety & Panic Workbook: Stop Stressing, Start Living (Anxiety-Free Me Series) (Volume 1)
Save

Liquid error (snippets/product-badge line 32): Computation results in '-Infinity'

%
Author: Mrs. Jodi Aman

Publisher: Ja'Love Books

Paperback:
ISBN 10: 0998561355
ISBN 13: 978-0998561356

Does anxiety take up a large part of your day? Do you worry about bad things happening to you or someone you love? Is it affecting your relationships? I want you to know that you are not alone.I won't minimize the impact anxiety has on your life. I know first-hand how horrible anxiety feels. I'm Jodi Aman, bestselling author of You 1, Anxiety 0: Win your life back from fear and panic. I struggled with anxiety and panic for more than two decades. Some days I could barely get out of bed. I was scared of dying, getting sick, being in an accident – you name it; everything and anything terrified me. My panic would last for hours and sometimes for days. I avoided restaurants, social events and traveling. I often couldn't even go into work. Anxiety doesn't play fair. It antagonizes you. It lies to you. It steals away the best parts of you. Don't let it keep cheating you out of happiness! You are too important."~Jodi AmanIn the Anxiety and Panic Workbook, Jodi Aman highlights the ways anxiety manipulates and entraps us, and offers valuable tools you can use to see through anxiety's mind tricks and break free from the prison of fear, stress and doubt.The good news is that anxiety is curable. Even if you've had it forever. Even if therapy hasn't worked. Even if you feel hopeless. This workbook:1. Helps you understand your anxiety2. Finds and enhances your motivation to get rid off it3. Provides practical daily rituals you can use to keep calm in this crazy world4. Exposes and affirms your unique resiliencies,5. Has you imagine your life without anxiety and6. Teaches skills to achieve that happy life you desire ...free of anxiety and panic.Healing is not hard. but "Anxiety" wants you to think it is hard. It just takes the practices in this book. They are easy to do, but you have to do them to get better. It's time to stop stressing and start living. Begin today.