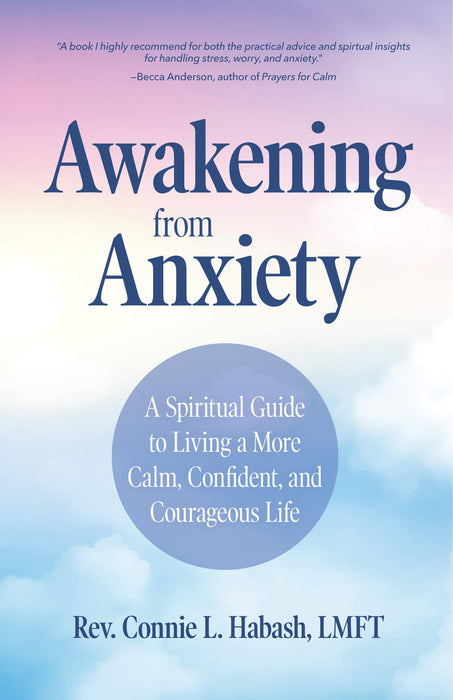 Author: Rev. Connie L. Habash
Publisher: Mango
Paperback:
ISBN 10: 1642500801
ISBN 13: 978-1642500806
A Spiritual Guide to Anxiety Relief
Do you find your usual approaches to anxiety (yoga, prayer, meditation) are not bringing the long-lasting, inner peace you truly desire? Awakening from Anxiety author and counselor, Connie Habash, has helped hundreds of spiritual people like you overcome fear and anxiety, regain happiness, and feel more calm within.
Competent, spiritual people suffer from anxiety and depression too: Spiritual people often find that their own expectations of living a life dedicated to a higher power makes them more susceptible to high-functioning anxiety. Sometimes, traditional relaxation techniques either do not work, don't last, or, in some cases, actually increase their anxiety.
The missing keys to managing anxiety: Psychotherapist, yoga teacher, and interfaith minister Rev. Connie L. Habash shows us a way to transform our perceptions using mindful awareness, in order that we may live divinely inspired lives. In over 25 years as a counselor helping spiritual people overcome anxiety, Rev. Connie has taught that it takes more than chanting mantras, stretching, or relaxation techniques to calm anxiety. It requires a transformation in perception, moment-to-moment body awareness, and a conscious response to thoughts and emotions.
Awakening from Anxiety provides valuable psycho-spiritual tools to deepen spiritual awakening and calm fears:
Learn what anxiety is and when it becomes a problem
Understand the 6 mistakes spiritual people make that increase anxiety
Discover the 7 keys to a more calm, confident, courageous life
Know how to break through the old patterns of stress, worry, and fear into a new perception of your true self
Explore spiritual principles and yoga philosophy to cultivate inner peace
If you enjoyed Stop Anxiety from Stopping You and First, We Make the Beast Beautiful, Awakening from Anxiety will take your healing and renewal from anxiety to the next level.