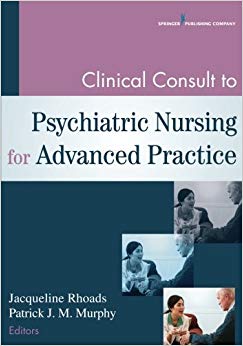 Clinical Consult to Psychiatric Nursing for Advanced Practice
Author: Jacqueline Rhoads
Publisher: Springer Publishing Company
Paperback:
ISBN 10: 0826195954
ISBN 13: 978-0826195951
This is the only advanced practice guide to provide an overview of the major DSM-5 disorders across the lifespan and complete clinical guidelines for their psychopharmacologic management. It has been compiled by expert practitioners in psychiatric care and is designed for use by nurse practitioners and other primary caregivers in clinical practice.
The guide is organized in an easy-to-access format with disorders for which drugs can play a significant therapeutic role. The listing for each disorder includes clinical features and symptoms, as well as information about the most current and effective drugs for management. A clearly formatted table identifies the first and second lines of drug therapy along with adjunctive therapies for each disorder. Drugs are organized according to classification, and each listing provides the essential information needed to safely prescribe and monitor a patient's response to a particular drug. Brand and generic names, drug class, customary dosage, side effects, drug interactions, pharmacokinetics, precautions, and management of special populations are addressed. Convenient, practical, and portable, this guide will be a welcome and frequently used resource.
Key Features:
Presents psychopharmacological treatment guidelines for major DSM-5 disorders and parameters for use of each drug
Prioritizes drugs according to their clinical efficacy and recommended treatment algorithms
Includes brand and generic names, customary dosages, side effects, drug interactions, pharmacokinetics, precautions, and management of special populations
Provides easy-to-read tables for quick clinical consultation
Offers information on clinical algorithms, lab evaluation, and preventive services