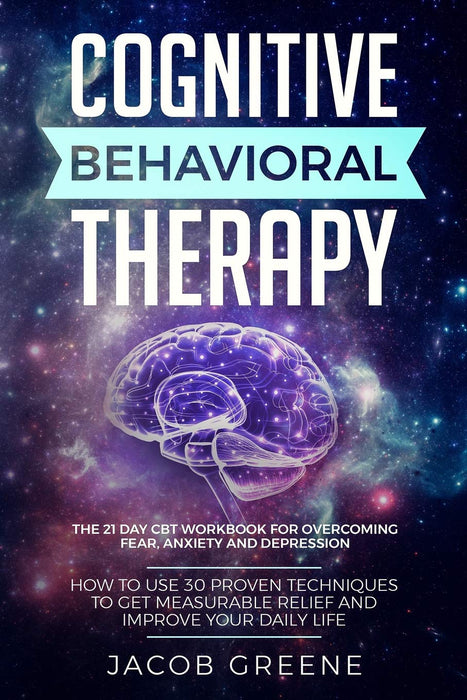 Cognitive Behavioral Therapy : The 21 Day CBT Workbook for Overcoming Fear, Anxiety And Depression: How To Use 30 Proven Techniques To Get Measurable Relief and Improve Your Daily Life
Author: Jacob Greene
Publisher: Independently published
Paperback:
ISBN 10: 1076064876
ISBN 13: 978-1076064875
Your Practical Guide To Conquering Fear, Beating Anxiety, and Pushing Away Depression!
If you find yourself troubled by anxious, negative thoughts. As Well As suffering from bouts of self-loathing or having inconvenient compulsive behaviors. AND you want an Effective, Medication Free Way Out Of All These –
Then You have come to the right place.
Loads of folks are fighting the battles that you are facing. Just anxiety alone is said to afflict 40 Million in the US and 300 Million Worldwide. Medication and anti-depressants need not be the only answer to the demons of depression and PTSD.
Many are finding measurable relief and improvements in their daily lives by embracing Cognitive Behavioral therapy or CBT. If you want to hop on a path that can help you overcome depression, anxiety as well as negative intrusive thought, then you have got to read on!
In This Book, You Will Pick Up
How Your Mind Actually Works And Why It Is So Important
What CBT Is all about and how You Can Benefit
How to confront Anxiety and quell it more readily with the processes taught in the book
How to avoid falling prey to the "tricks" of the mind and bogging yourself down with doubt
2 of the more effective techniques to handle phobias and fears
A 21 day step by step guided workbook program for an effective journey of healing and recovery
4 Lesser Known but Effective Holistic Ways to Improve Moods and Mental Well-being
The Key To Breaking bad habits and how to consistently use it to Better Yourself
The Technique to Break the Hold of Depression by Short Circuiting your mental thoughts
If You are looking to get a better quality of life and effective relief from the issues that have been troubling you so far, then embarking on this Cognitive Behavioral Therapy journey with The 21 Day CBT Workbook For Overcoming Fear, Anxiety And Depression would just be the easier and simpler fix amidst the choices out there!
PLUS a BONUS Section that gives more in depth tutelage on mindful breath meditation
So if you would like to break free from the bonds of a negative mental state and gain control of your Well-being and Life, take this Step toward improving Your Self Esteem and increasing Your Overall Happiness by following the CBT techniques and structured programs in this Book!
Click The BUY NOW button and be on your way to seeing improvements in your Daily Life!