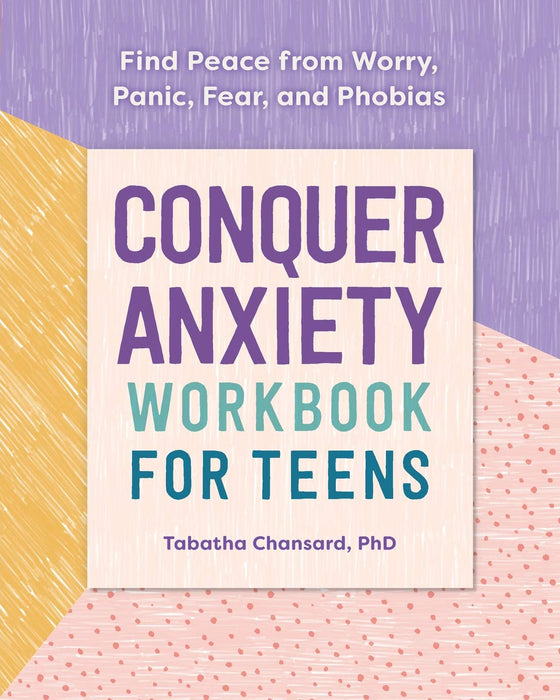 Conquer Anxiety Workbook for Teens: Find Peace from Worry, Panic, Fear, and Phobias
Author: PhD Tabatha Chansard
Publisher: Althea Press
Paperback:
ISBN 10: 1641524014
ISBN 13: 978-1641524018
Tackle anxiety with simple, modern solutions that help teens find more peace and calm in their lives.
Anxiety is a difficult emotion to manage―especially with all of the stressors that come with the teenage years. From surviving awkward social situations to getting into college, it's normal for teens to feel anxious. This book arms teens with effective tools to tackle worrying―so that anxiety doesn't have to be overwhelming.
Using the latest strategies from CBT (Cognitive Behavioral Therapy) and mindfulness therapies, teens will learn how to control their thoughts, emotions, and behaviors so that they don't trigger anxiety. With real scenarios they might face at school, home, or with friends, this book is every teenager's secret weapon to stay cool in stressful and scary moments.
The Conquer Anxiety Workbook for Teens includes:
Anxiety decoded―Understand the root causes of general and social anxiety, along with panic and phobias. Also, learn the Dos and Don'ts of coping.
Mind and body exercises―Discover right-now strategies like body scanning and taking charge of your anxious alter-ego to stop anxiety attacks in their tracks.
Proven therapies―Use time-tested techniques like CBT and mindfulness practices to manage anxious thoughts and feelings.
You can't protect teens from feeling anxious―but you can give them the tools to manage thoughts and feelings before they become overwhelming with the Conquer Anxiety Workbook for Teens.