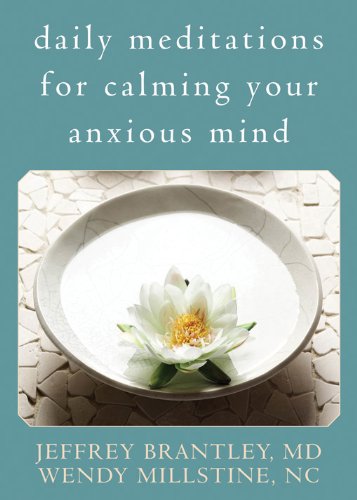 Daily Meditations for Calming Your Anxious Mind
Author: Jeffrey Brantley MD
Publisher: New Harbinger Publications
Paperback:
ISBN 10: 1572245409
ISBN 13: 978-1572245402
Trying to control your anxious thoughts can backfire, making them more prevalent, not less. The best way to calm these common feelings is by attuning yourself to your thoughts in a nonjudgmental, attentive manner, acknowledging your anxieties but choosing to act rather than react.
From the author of Calming Your Anxious Mind comes Daily Mediations for Calming Your Anxious Mind, a collection of more than sixty-four daily mindfulness-based meditations to help you engage with the present moment, manage stress and anxiety, and rediscover the joy in living. Each meditation contains an easy-to-learn visualization exercise, affirmation, or activity, with meditations grouped into four sections: relaxing and feeling safe, embracing joys and fears, befriending your anxious mind and body, and connecting to the web of life.