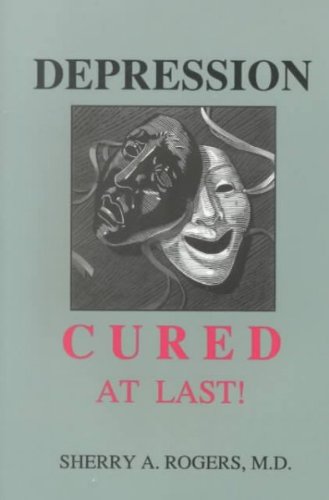 Depression : Cured at Last!
Author: Sherry A. Rogers
Publisher: Prestige Pubs
Paperback:
ISBN 10: 1887202013
ISBN 13: 978-1887202015
From the Hardcover Book Jacket:
Just when you thought there was no hope, along comes a book to show you step-by-step the many hidden causes of depression, and how to diagnose and treat them. Even better - much of this can be done at home.
And while finding and correcting the hidden causes of your depression, you will most likely find and correct the causes of many, if not all of your other symptoms. For this is a blueprint for solving most medical (including mental) problems.
In spite of the fact that many of Dr. Rogers' patients come from thousands of miles away, often with undiagnosable or untreatable symptoms, she asserts, "I'm no smarter than any other doctor, I was just a lot sicker !" And now she wants to share with you these undercover causes that have enabled many to heal their depression.
She spells out in detail how to diagnose and treat yourself, and even how to test your physician's knowledge when you do need his help.
Just when you were about to give up, rejoice ! There is great hope. For every symptom has a cause. The chances are enormously in your favor that your depression can be cured at last !