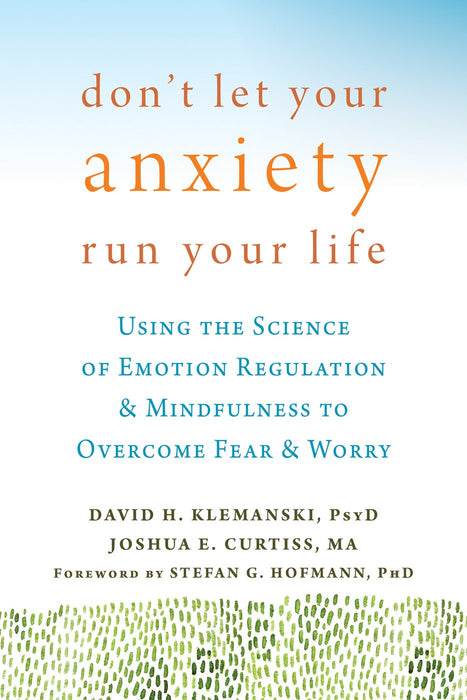 Don't Let Your Anxiety Run Your Life: Using the Science of Emotion Regulation and Mindfulness to Overcome Fear and Worry
Author: David H. Klemanski PsyD
Publisher: New Harbinger Publications
Paperback:
ISBN 10: 1626254168
ISBN 13: 978-1626254169
Anxiety is an epidemic in our modern world. But studies now show there is a direct link between anxiety and how you respond to emotions. Don't Let Your Anxiety Run Your Life provides a groundbreaking, step-by-step guide for managing the thoughts and feelings that cause anxiety, worry, fear, and panic.
Are your emotions causing you anxiety? Emotions can be quite beneficial—they help us communicate with others, and are deeply connected to special and important memories in our lives. But sometimes, emotions can have unwanted consequences, especially when they cause us fear or anxiety.
Studies now show a direct link between emotion regulation and anxiety. Based in the latest research from a Yale University psychologist and professor, the simple yet powerful mindfulness tips in this book will help you stay calm, collected, and make significant improvements in your everyday life, whether at work, at home, or in your relationships.

This is the first book to present an integrated model of mindfulness and emotion regulation—both clinically proven for reducing anxiety symptoms. Using these easy mindfulness practices, you'll learn to manage your emotions and lessen your anxiety, leading to improvements in your social life, work obligations, and family responsibilities.