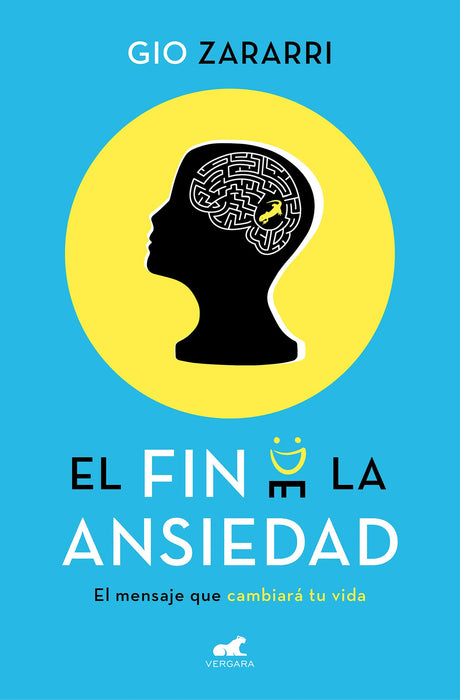 El fin de la ansiedad / An End to Anxiety (Spanish Edition)
Author: Gio Zararri

Publisher: Vergara

Paperback:
ISBN 10: 8417664335
ISBN 13: 978-8417664336

El libro sobre la ansiedad que arrasa en internet.

¿Qué es la ansiedad y por qué aparece en nuestra vida? Existe una solución para superarla que nos ayudará a convivir con sus síntomas y a convertirnos en personas más fuertes y felices.

Todo lo que necesitas para vencer la ansiedad lo tienes dentro de ti. En este libro encontrarás las herramientas para comprender por qué esta emoción se presenta en tu vida y aprenderás a ponerle remedio. Descubrirás que convivir con ella puede ser sencillo e incluso divertido.

El fin de la ansiedad es uno de los libros mejor valorados sobre este tema en internet, y es recomendado en revistas web de psicología y estilo de vida. Su autor, Gio Zararri, a través de su propia experiencia con la enfermedad, nos ayudará a cambiar el modo de entender y superar uno de los problemas psicológicos más extendidos en nuestra época. Desde la cercanía y el humor, Zararri nos enseña que la ansiedad siempre llega debido a la necesidad inminente de realizar un cambio: el nuestro.

ENGLISH DESCRIPTION

The book about anxiety that is an online sensation.

What is anxiety and why does it come into our lives? There is a way to overcome it, which will help us manage and live with the symptoms and become stronger and happier people.

Everything you need to overcome anxiety lives within you. In this book you will find the tools to understand why this emotion comes into your life and you will also learn to treat it. You will soon realize that living with it can be easy and maybe even fun.
 
An End to Anxiety is one of the most referenced and most valued books on this subject on the internet, it has been on best-sellers lists on numerous occasions, and is often recommended in psychology and lifestyle online magazines. Gio Zararri, through his own experience with the disease, will help us change the way we understand one of the most widespread psychological problems in our times, and overcome it. With kindness and humor, Zararri teaches us that anxiety always arrives because of an imminent need to make a change: our own.