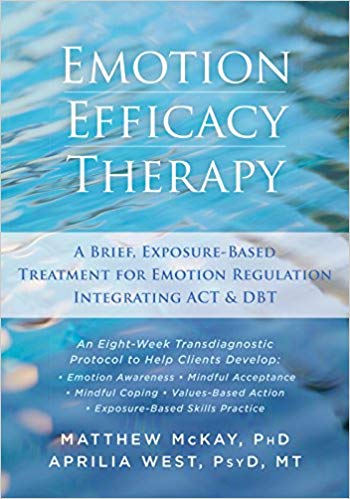 Emotion Efficacy Therapy: A Brief, Exposure-Based Treatment for Emotion Regulation Integrating ACT and DBT
Author: Matthew McKay PhD
Publisher: Context Press
Paperback:
ISBN 10: 1626254036
ISBN 13: 978-1626254039
In this groundbreaking guide for clinicians, psychologist Matthew McKay and Aprilia West present emotional efficacy therapy (EET)—a powerful and proven-effective model for treating clients with emotion regulation disorders.
If you treat clients with emotion regulation disorders—including depression, anxiety, post-traumatic stress disorder (PTSD), bipolar disorder, and borderline personality disorder (BPD)—you know how important it is for these clients to take control of their emotions and choose their actions in accordance with their values. To help, emotion efficacy therapy (EET) provides a new, theoretically-driven, contextually-based treatment that integrates components from acceptance and commitment therapy (ACT) and dialectical behavior therapy (DBT) into an exposure-based protocol. In doing so, EET targets the transdiagnostic drivers of experiential avoidance and distress intolerance to increase emotional efficacy.
This step-by-step manual will show you how to help your clients confront and accept their pain, and learn to apply new adaptive responses to emotional triggers. Using a brief treatment that lasts as little as eight weeks, you will be able to help your clients understand and develop a new relationship with their emotions, learn how to have mastery over their emotional experience, practice values-based action in the midst of being emotionally triggered, and stop intense emotions from getting in the way of creating the life they want.
Using the transdiagnostic, exposure-based approach in this book, you can help your clients manage difficult emotions, curb negative reactions, and start living a better life. This book is a game changer for emotion exposure treatment!