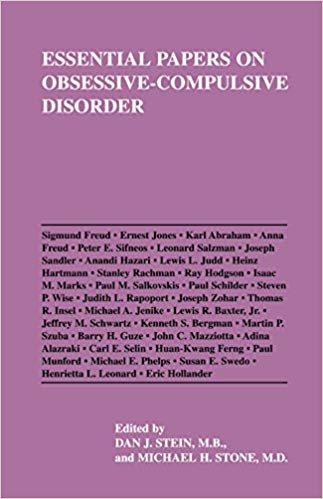 Essential Papers on Obsessive-Compulsive Disorder (Essential Papers on Psychoanalysis)
Author: Dan J. Stein
Publisher: NYU Press
Paperback:
ISBN 10: 0814780571
ISBN 13: 978-0814780572
Recent advances in the diagnosis and treatment of obsessive- compulsive disorder have come from breakthroughs in neurobiologic and cognitive-behavioral studies. Essential Papers on Obsessive-Compulsive Disorder represents the most significant thinkers and the various strands of thought on obsessive-compulsive disorder.
Divided into three sections focusing on classical psychoanalysis, psychological research, and neuro-psychiatric approaches, this definitive volume includes contributions bythe most experienced and renowned experts on the subject. Contributors include Sigmund Freud; Karl Abraham; Ernest Jones; Anna Freud; Paul E. Sifneos; Leonard Salzman; Joseph Sandler and Anandi Hazari; Lewis L. Judd; Heinz Hartmann; Stanley Rachman, Ray Hodgson and Isaac M. Marks; Paul M. Salkovskis; Paul Schilder; Steven P. Wise and Judith L. Rapoport; Joseph Zohar and Thomas R. Insel; Michael A. Jenike; Susan E. Swedo, Henrietta Leonard; Lewis R. Baxter, Jeffrey M. Schwartz, Kenneth S. Bergman; Dan Stein and Eric Hollander.