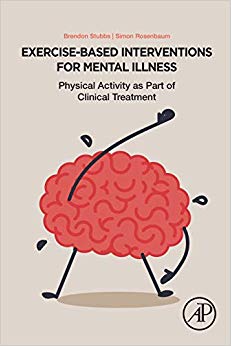 Exercise-Based Interventions for Mental Illness: Physical Activity as Part of Clinical Treatment
Author: Brendon Stubbs
Publisher: Academic Press
Paperback:
ISBN 10: 0128126051
ISBN 13: 978-0128126059
Exercise-Based Interventions for People with Mental Illness: A Clinical Guide to Physical Activity as Part of Treatment provides clinicians with detailed, practical strategies for developing, implementing and evaluating physical activity-based interventions for people with mental illness. The book covers exercise strategies specifically tailored for common mental illnesses, such as depression, schizophrenia, bipolar disorder, and more. Each chapter presents an overview of the basic psychopathology of each illness, a justification and rationale for using a physical activity intervention, an overview of the evidence base, and clear and concise instructions on practical implementation.
In addition, the book covers the use of mobile technology to increase physical activity in people with mental illness, discusses exercise programming for inpatients, and presents behavioral and psychological approaches to maximize exercise interventions. Final sections provide practical strategies to both implement and evaluate physical activity interventions.