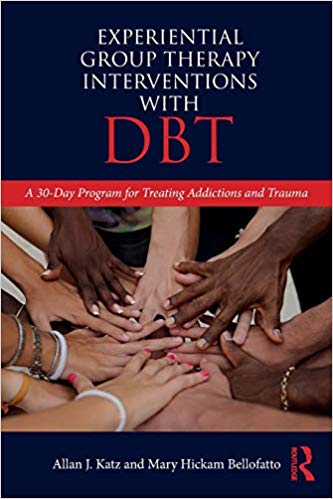 Experiential Group Therapy Interventions with DBT
Author: Allan J. Katz
Publisher: Routledge
Paperback:
ISBN 10: 0815395701
ISBN 13: 978-0815395706
Hardcover:
ISBN 10: 0815395698
ISBN 13: 978-0815395690
Experiential Group Therapy Interventions with DBT provides group and individual therapists with proven experiential exercises that utilize dialectical behavior therapy (DBT) skills and original educational topics and have been successfully used nationwide to help treat patients with addiction and trauma. It introduces the advantages of using experiential therapy to facilitate groups for trauma and addiction and explains how DBT can help in regulating emotions and tolerating stress. This workbook contains concise plans and exercises for facilitating a group for a 30-day cycle. There is a theme for each day, original psychoeducational materials, experiential exercises, warm ups, and closing interventions.