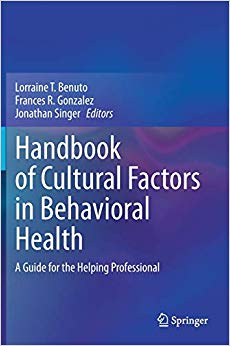 Handbook of Cultural Factors in Behavioral Health: A Guide for the Helping Professional
Author: Lorraine T. Benuto
Publisher: Springer
Hardcover:
ISBN 10: 3030322289
ISBN 13: 978-3030322281
Having the knowledge and capacity to deliver therapy to a diverse population is recognized as benefiting client-therapist relationships and producing positive clinical outcomes. In fact, the APA requires that psychologists be aware of and respect the cultural characteristics of their clients which includes psychologists being aware of any biases and prejudice they may hold. Being aware of cultural characteristics, which include age, gender, ethnicity, race, religion and other cultural factors, is important.  In the United States, minority ethnic groups are growing substantially, with 28% of the U.S. population identifying as races other than white (U.S. Census, 2016). Additionally, approximately 65 million people in America speak a foreign language that is not English, with over 25 million people having limited English language proficiency. With a diverse pool of clients, helping professionals should be better prepared to work with diverse clients. This handbook offers clinicians a comprehensive resource with which to work with diverse populations.
The myriad discussions among the chapters include:
Ethical guidelines for working with culturally diverse clients
Cultural considerations in psychological assessment and evaluation 
Behavioral health service delivery with culturally diverse clients
Cross-cultural factors in the treatment of trauma related disorders
Cultural considerations in the assessment and behavioral treatment
of substance use disorders 
Handbook of Cultural Factors in Behavioral Health expertly offers clinicians a comprehensive set of resources and tools that will assist them working with diverse clients. Clinicians working with culturally diverse clients, as well as researchers and students learning about how cultural factors are relevant to the helping profession will all find this volume an integral addition to their library.