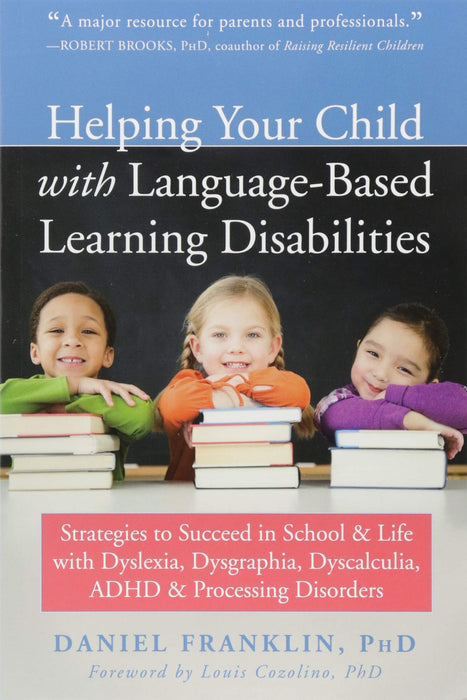 Helping Your Child with Language-Based Learning Disabilities: Strategies to Succeed in School and Life with Dyslexia, Dysgraphia, Dyscalculia, ADHD, and Processing Disorders
Author: Daniel Franklin PhD
Publisher: New Harbinger Publications
Paperback:
ISBN 10: 1684030986
ISBN 13: 978-1684030989
Based in cutting-edge research in neuroscience, education, and the principles of attachment-based teaching, this important guide for parents offers tools and practices to help children transcend language-based learning difficulties, do better in school, and gain self-confidence and self-esteem.
If your child has a language-based learning difficulty—such as dyscalculia, dyslexia, and auditory processing disorder—they may have to work twice as hard to keep up with their peers in school. Your child may also have feelings of frustration, anger, sadness, or shame as a result of their learning differences. As a parent, it hurts to see your child struggle. But the good news is that there are proven-effective strategies you can learn to help your child be their best. This book will show you how.
Helping Your Child with Language-Based Learning Disabilities outlines an attachment-based approach to help your child succeed based in the latest research. This research indicates that a secure attachment relationship between you and your child actually optimizes their learning ability by enhancing motivation, regulating anxiety, and triggering neuroplasticity. In this book, you'll discover why it's so important to accurately assess your child, find new perspectives on LBLDs based on the most current studies, and discover tips and strategies for navigating school, home life, and your child's future. Most importantly, you'll learn how your own special bond with your child can help spark their interest in reading, writing, and math.
Every child is unique—and every child learns in his or her own way. With this groundbreaking guide, you'll be able to help your child thrive, in school and life.