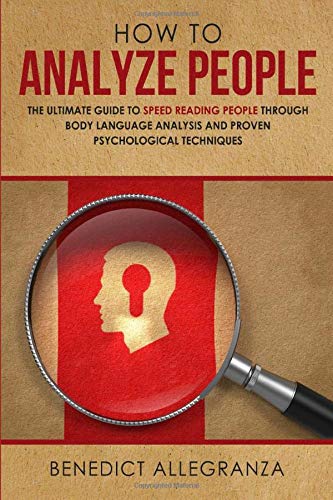 How To Analyze People: The Ultimate Guide to Speed Reading People Through Body Language Analysis and Proven Psychological Techniques
Author: Benedict Allegranza
Publisher: Independently published
Paperback:
ISBN 10: 1093358149
ISBN 13: 978-1093358148
How would you like to be able to tell what is going on through another person's mind?
Research has shown that people say much less than they are actually thinking. Think of this in terms of the knack for deception people have and you will find that it is important to be able to read people so that you can get the full story including what they are not saying with their words. This book has been put together from a ton of research and personal experience and you will find that it teaches what it promises and more.
In this book, you will discover:
•How to read people from their nonverbal cues,
•How to classify and identify people's characters so that you will better understand them,
•The parts of the brain responsible for certain behaviors, and so much more.
This book will help you turn your life around. It will make you a better judge of character and as such will give you an upper hand when dealing with people. It will also help you identify what it is that people truly want, quality information that will come in handy when negotiating for one thing or the other.So, what are you waiting for? Order this book and become an expert at reading people overnight. This might be that break you have been praying for that will help you secure that promotion, or befriend that person.
Scroll back up to the top and BUY a copy now to master these techniques.