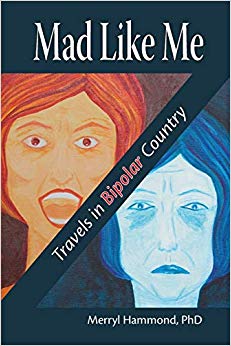 Mad Like Me: Travels in Bipolar Country
Author: Merryl Hammond
Publisher: Consultancy for Alternative Education (CAE Canada)
Paperback:
ISBN 10: 0987678884
ISBN 13: 978-0987678881
Have you ever wondered what it's like to live with bipolar disorder? Ever agonized about whether your own or a loved one's mood swings are normal or not? This is the book for you! Mad Like Me: Travels in Bipolar Country takes you on a wild, no-holds-barred gallop through one health professional's battles with bipolar disorder. In 2008, Dr. Hammond was struck with bipolar at age 51. Just imagine: almost overnight, she flipped from being a researcher and public health consultant to a locked-ward patient. She shares everything she learned along the way about how to reclaim your own mental health and maintain stability, and does so in an accessible, readable, often humorous way.
Her fearless honesty in vividly retelling events helps to demystify this much-misunderstood mental illness, and to humanize the people it affects. The book is proof that hope and recovery are possible, and a poignant salute to her family who stood by her throughout their shared saga. This is an essential resource for patients working towards recovery, for families who need insight into what it is truly like to have bipolar disorder, and for therapists, nurses, and psychiatrists. Readers and reviewers have raved, calling it "mesmerizing," "captivating," "riveting," "compelling," "elucidating," "enlightening," "inspiring," "remarkable," "deeply personal," "stunningly sincere," "a must-read," "beautifully written; powerfully honest," and "a bullseye." For videos, photos and media links about the author, her family and the book, please visit merrylhammond.com.
If you enjoyed Kay Jamison's classic 1996 memoir An Unquiet Mind or Marya Hornbacher's 2009 triumph Madness: A Bipolar Life, you're going to devour this latest bipolar memoir! Dr. Hammond says her mission is now to fight the stigma against all forms of mental illness, in all age groups. She hopes that you'll join that undertaking once you've read her book.