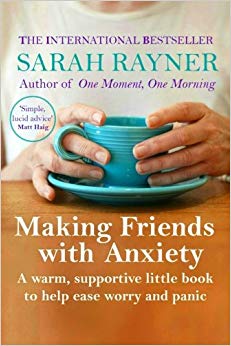 Making Friends with Anxiety: A warm, supportive little book to ease worry and panic - 2019 edition
Author: Sarah Rayner
Publisher: CreateSpace Independent Publishing Platform
Paperback:
ISBN 10: 1502345420
ISBN 13: 978-1502345424
A warm and supportive little book to help ease worry and panic by bestselling author Sarah Rayner - 2019 edition.
Drawing on her own experience of
anxiety disorder and recovery
, Sarah Rayner shares her insights into this extremely common and often distressing condition with compassion and humour. She reveals
the seven elements that commonly contribute to anxiety
including adrenaline, negative thinking and fear of the future, and explains what causes worry and panic to become such a problem for many of us.
Illustrated by examples and photographs from the author's own life and backed by an online support group, since its launch in 2014 this companion to mental good health has helped thousands of sufferers across the world. Now it's been updated for 2019 to include more insights from the author, and dozens of bite-size suggestions from readers and group members who share what's worked for them.
If you suffer from panic attacks, a debilitating disorder or simply want to spend less time worrying, Making Friends with Anxiety will give you a greater understanding of how your mind and body work together, helping restore confidence and control.
* Draws on the techniques of Mindfulness-based Cognitive Therapy
* Useful links throughout, plus details of helplines and recommended reads
* Ongoing online support group available
'Simple, lucid advice on how to accept your anxiety' Matt Haig, bestselling author of Reasons to Stay Alive.
'Reads like chatting with an old friend; one with wit, wisdom and experience' Laura Lockington, Brighton and Hove Independent
'This is a great book: readable, practical and, most importantly, compassionate. Sarah Rayner gives a clear explanation of the common symptoms of anxiety and panic that affect so many lives. She then goes on to give sound advice as to how to cope with these ongoing feelings. This entails a series of strategies that encourage understanding of the anxiety rather than its suppression, aiming to give control of these complex emotions back to the patient. It's impressive that she admits to her own anxiety issues, and without embarrassment shows how they have affected her life, how she has sought help over the years, and how she continues to deal with them. The fact she has written this book shows how well she has embraced her demons, able to get on with her own creative life. I will be recommending this book to my patients.' Dr P Fitzgerald, GP
'Sarah's advice is very sage: if one is prone to anxiety, as many of us are, it is futile to expect to be totally rid of it forever. It will come back, but it is possible to tame it. She encourages the reader to be kinder to themselves, live in the moment, and accept their anxiety as an occasionally troublesome, yet integral part of their own being. Deeply personal yet eminently practical, this accessible and engaging e-book should prove extremely helpful to anyone trying to cope with anxiety.' Dr Ian Williams, GP and author
PRAISE FOR SARAH RAYNER:
'Carefully crafted and empathetic' Sunday Times
'Brilliant… Warm and approachable' Essentials
'A sympathetic insight into the causes and effects of mental ill-health' My Weekly