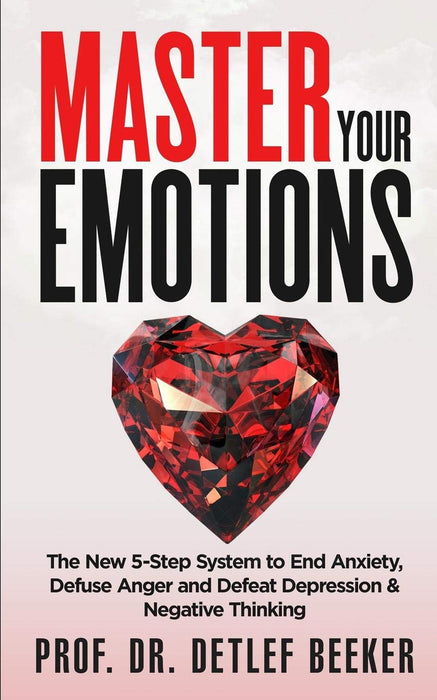 Master Your Emotions: The New 5-Step System to End Anxiety, Defuse Anger and Defeat Depression & Negative Thinking (5 Minutes for a Better Life)
Save

Liquid error (snippets/product-badge line 32): Computation results in '-Infinity'

%
Author: Prof. Dr. Detlef Beeker
Publisher: www.detlefbeeker.de
Paperback:
ISBN 10: 3982101301
ISBN 13: 978-3982101309
"This incredibly practical guide teaches specific tactics to use when your emotions get out of control. Plenty of examples are given to illustrate how the techniques work, and a generous dose of humor is thrown in to make this an enjoyable read. I highly recommend reading Detlef Beeker's Master Your Emotions!"
–John Weiler, Author, An Ordinary Dude's Guide to Meditation
Discover How To Effectively Get Rid Of Negative Emotions And Live A Happier Life Without Therapy And Medication With This Ultimate Guide To Emotional Control.
In our fast-paced world of today with its technological advances and megacities, the human psyche is subjected to pressures of the likes which our ancestors have never before experienced. More people than ever are becoming prone to mental problems, due to stressful situations, and we haven't adapted to deal with it optimally and effectively.
Emotions that are allowed to run unchecked—anger, anxiety, depression and many other mental issues—can direct you into dark and dangerous places that may cost you everything, sometimes even your life.
In this comprehensive guide, Amazon bestselling author, Dr. Detlef Beeker condenses 20+ years of experience as a happiness researcher and anti-stress expert and hands you a powerful step-by-step blueprint you can use to obtain mastery over your feelings and emotions, allowing you to achieve your fullest potential.
Here's a snippet of what you're going to discover in this guide:
A brand new, field-tested concept based on 20 years of painstaking research that will help you bring your emotions under control

What "emotion prophylaxis" is and how you can use it to free yourself from strong negative emotions

The foolproof, 5-Step recipe for achieving inner peace

A dead-simple technique that modern psychotherapists and ancient Greek philosophers alike use to prevent negative feelings from arising in the first place

How to resolve stress, worries, and fears in seconds with a scientifically proven technique.

Special, extremely powerful Anti-Panic Breathing with which you are guaranteed to get panic under control.

New generations thought-stop techniques guaranteed to stop negative thought in their tracks

How to effectively use the revolutionary Sedona method to get rid of negative emotions. In seconds.

Little-known but deadly effective power tactics to eliminate depression

...and much more.
Filled with deep insights and practical advice, Master Your Emotions is an indispensable guide with powerful techniques that will help you understand and control your emotions you won't find anywhere else.
100% money-back guarantee: You will get your money back from Amazon within one week if you don't like the book.
Ready to take back control of your life? Scroll up and click the button to buy now!