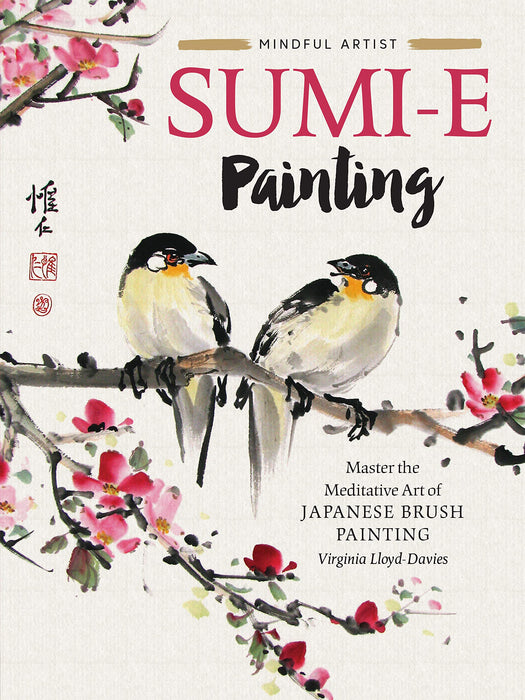 Mindful Artist: Sumi-e Painting: Master the meditative art of Japanese brush painting
Author: Virginia Lloyd-Davies
Publisher: Walter Foster Publishing
Paperback:
ISBN 10: 1633228126
ISBN 13: 978-1633228122
Mindful Artist: Sumi-e Painting teaches you to create your own beautiful, Japanese-inspired ink wash paintings while cultivating a mindful approach to making art.

Centuries ago, Buddhist monks used black ink and brushes to practice mindfulness and create gorgeously harmonious works of art called "sumi-e paintings." The popularity of sumi-e, or ink wash painting, continues to this day. Mindfulness remains an essential element of sumi-e painting, allowing artists to focus on their surroundings, live in the moment, and feel present—thereby reducing their stress.

Walter Foster's new Mindful Artist series encourages you to enjoy working in your favorite media to create art from a reflective point of view—an inspiring, relaxing experience that emphasizes the creative process, rather than the end result. These books are designed to help you move past creative obstacles, like a perfectionist attitude toward making art or self-defeating concerns about your personal talent and abilities. These guides will not only help you stay mindful throughout the process, but also to find personal meaning in the artwork you create.

Mindful Artist: Sumi-e Painting opens with an introduction explaining the links between mindfulness and sumi-e and how they enhance one another. Sections on "The Four Treasures," as the tools needed for sumi-e painting are called; brushstrokes and painting techniques; and "The Four Gentlemen," or the most common subjects in sumi-e painting, ensure that you have a solid background before getting started on the simple, approachable step-by-step painting projects. Throughout the book you can find stunning full-page artwork, tips for remaining mindful while you work, creative prompts and exercises, inspirational ideas, and suggestions on how to add color to black ink pieces.

Learn to practice mindfulness while you master the popular art of ink wash painting with this inspiring and supportive guide.