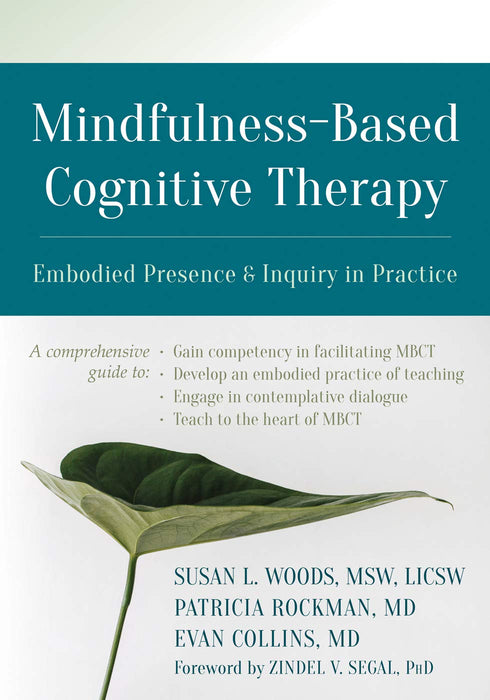 Mindfulness-Based Cognitive Therapy: Embodied Presence and Inquiry in Practice
Author: Susan L. Woods MSWLICSW
Publisher: Context Press
Paperback:
ISBN 10: 1684031508
ISBN 13: 978-1684031504
Mindfulness-based cognitive therapy (MBCT) is a powerful, evidence-based treatment for depression and other mental health conditions. This groundbreaking professional book provides clinicians with the essential skills they need to deliver MBCT.  
In this book, you'll discover the foundations of teaching MBCT, guidance on embodied mindful presence (a focused awareness of experience in the moment), the contemplative dialogue known as inquiry, and other strategies for delivering group-based MBCT. You'll also find scripts, access to audio material, and practice guidelines for you and your clients. Although focused on MBCT, this book can be referenced for use in other mindfulness-based programs.
In addition, you'll gain the knowledge and confidence you need to effectively deliver MBCT and build the foundations of an embodied practice. The book starts with an overview of the MBCT program, before devoting chapters to the structure and skills required for developing competence and best practice. You'll deepen your understanding and facility in the most challenging elements of MBCT: mindful embodied presence and inquiry.  
You'll also learn strategies for delivering this therapy to a group; troubleshooting tips; and a chapter on training, mentorship, and maintaining competence. Finally, you'll find essential information including meditation scripts, tools, and other resources for delivering MBCT.
If you are looking to deepen your practice and ability to teach MBCT, this book—written by renowned MBCT clinicians—is an invaluable addition to your professional library.