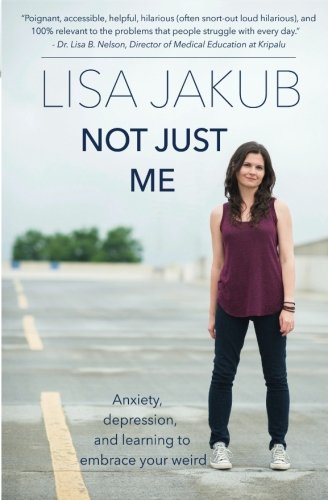 Not Just Me: Anxiety, depression, and learning to embrace your weird
Save

Liquid error (snippets/product-badge line 32): Computation results in '-Infinity'

%
Author: Lisa Jakub

Publisher: CreateSpace Independent Publishing Platform

Paperback:
ISBN 10: 1548088080
ISBN 13: 978-1548088088

Lisa Jakub has always been a little weird. Sensitive. Emotional. Introverted.What else would you expect from a former child actor turned writer?But the issue wasn't just an artistic temperament; Lisa was constantly trying to hide her debilitating anxiety and depression. She assumed that retiring from her eighteen-year acting career and leaving Hollywood was going to be the cure for all of her issues. Guess how that worked out? Lisa was still having three panic attacks a day and found it hard to leave her house. But when anxiety-induced vomiting claimed the life of her iPod—she knew it was time to get help. It was time to talk about the things that are hard to talk about. She started to embrace her weird. In searching for a deeper understanding of mental wellness, Lisa explored her own history and reached out to others to learn how anxiety and depression impacted their lives. She interviewed Veterans with PTSD and ten-year-olds with sensory integration issues, people with eating disorders and cutting habits, those whose lives were saved by medication and those who found yoga to be the answer. She went to Colorado to learn about the effects of cannabis on anxiety, and attended a meditation retreat in North Carolina to sit quietly for hours and hours and hours in "noble silence." Without a phone.Not Just Me is a hopeful, entertaining, enlightening look at the root causes of anxiety, the latest research on mood disorders, and ideas for how we can all live authentically with more peace, power, and purpose. Part memoir, part journalistic exploration—this book reminds all of us that we are not alone.