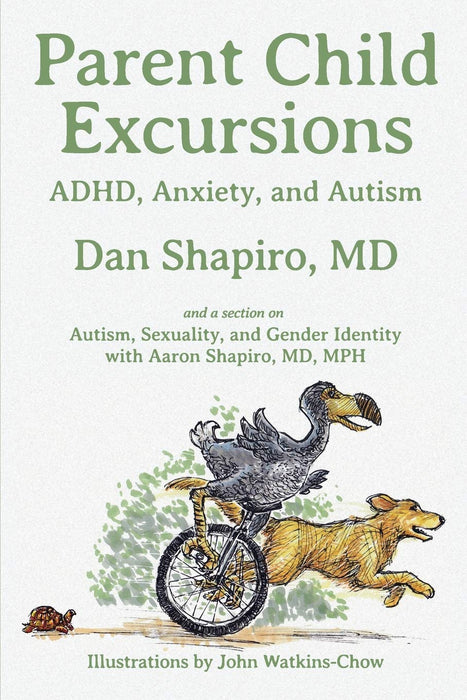 Parent Child Excursions: ADHD, Anxiety, and Autism
Author: Dan Shapiro MD

Publisher: Dagmar Miura

Paperback:
ISBN 10: 1951130103
ISBN 13: 978-1951130107

Written for parents, clinicians, and educators, Parent Child Excursions is a practical book about helping children with ADHD, anxiety, and autism. In this unique approach, Dr. Dan presents ADHD as a problem with stopping, anxiety as a problem with going, and autism as difficulty balancing these competing tendencies. From the introduction: "This book is quite simply a story of red light and green light, braking and accelerating, holding back and forging ahead." Based on this simple formulation, management of problems with self-control depends on finding the right balance between excitation and inhibition.These five Excursions present entirely new ways to think about caring for "different drummer" children. Readers will discover an unprecedented level of detail. Based on scientific research and years of clinical experience, Dr. Dan takes you for a deep dive into: (1) effective medication for ADHD, (2) exposure therapy for anxiety, (3) combined therapies for coexisting ADHD, anxiety, and autism, and (4) social engineering for autism. The book concludes with an in-depth discussion of (5) autism, sexuality, and gender variation, cowritten by Dr. Dan and his son Dr. Aaron Shapiro.As with his first book, Parent Child Journey: An Individualized Approach to Raising Your Challenging Child, Dr. Dan teams up again with illustrator John Watkins-Chow. Throughout the five Excursions, they weave a fun metaphorical tale. Readers are led along by an under-inhibited dog, an over-inhibited turtle, and a well-balanced bird of a different feather.By the end of this comprehensive and original guidebook, parents and professionals will have learned how to prepare the child for the trail and the trail for the child.