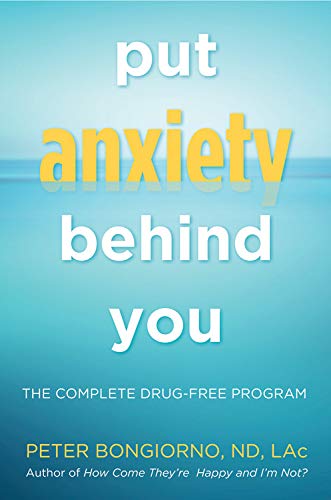 Put Anxiety Behind You: The Complete Drug-Free Program
Author: Peter Bongiono NDLAc
Publisher: Conari Press
Paperback:
ISBN 10: 1573246301
ISBN 13: 978-1573246309
Natural Remedies for Anxiety
From naturopathic doctor and licensed acupuncturist Dr. Peter Bongiorno comes Put Anxiety Behind You, a step-by-step program for natural anxiety relief.
A holistic approach to optimal health. You understand the majority of the factors causing anxiety: lifestyle, diet, sleep, genetics, etc. Taking all aspects of the mind and body into consideration, Dr. Bongiorno looks for and addresses the underlying causes of different types of anxiety disorders, and helps readers consider and develop new, natural anti-anxiety habits.
Panic free anxiety relief. If you're one of the 40 million Americans trying to stop panic attacks or overcome social anxiety, learn how to safely wean from medication and consider naturopathy treatment. In addition to case studies and a handy instruction guide, inside you'll also find:
Food, vitamins, and herbs for anxiety
Anxiety-reducing yoga poses and massage techniques
Acupressure points
If you're ready to move forward with your anxiety, and enjoyed books like Dare, When Panic Attacks, or The Anti-Anxiety Food Solution, then Put Anxiety Behind You is your next step to holistic relief.