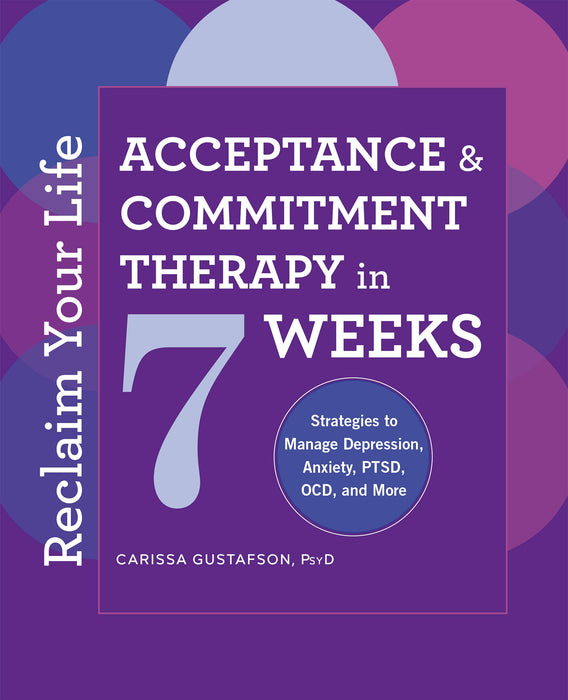 Reclaim Your Life: Acceptance and Commitment Therapy in 7 Weeks
Author: Carissa Gustafson PsyD
Publisher: Rockridge Press
Paperback:
ISBN 10: 1646112474
ISBN 13: 978-1646112470
Accept your thoughts, start living your life with Acceptance and Commitment Therapy
Thoughts are simply a normal part of being human, but we've all had them disrupt our lives. Reclaim Your Life teaches you to accept and manage your thoughts with evidence-based principles and strategies from Acceptance and Commitment Therapy. Discover ways to increase your flexibility in thinking, get some distance from your thoughts, and work toward a life full of values and purpose.
Acceptance and Commitment Therapy helps you get a handle on your emotions and find more adaptive responses from difficulties like panic attacks and low self-esteem. When strategies like labeling, visualizing, chatting with your mind, and others are implemented, they bring a positive change in your life.
This book about Acceptance and Commitment Therapy includes:
The program―Apply the six core processes to each week and then bring them all together during the seventh and final week.
Broad array of issues―Acceptance and Commitment Therapy can help with mental health issues like obsessive compulsive disorder (OCD), depression, anxiety, and post-traumatic stress disorder (PTSD).
Hands-on―Use the six chapter lessons, worksheets, and exercises to learn each step of the process.
Reclaim Your Life is everything an Acceptance and Commitment Therapy book should be. It allows you to live the good life you deserve.