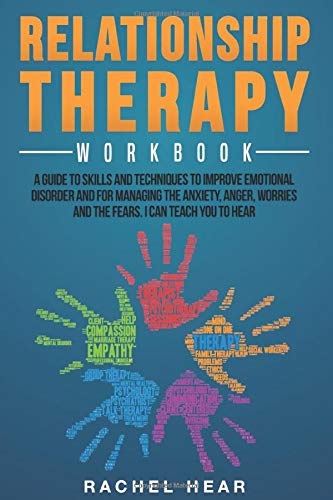 Relationship Therapy Workbook: A Guide to Skills and Techniques to Improve Emotional Disorder and for Managing the Anxiety, Anger, Worries and the ... Can Teach You to Hear (Relationship Workbook)
Author: Rachel Hear

Publisher: Independently published

Paperback:
ISBN 10: 1707468109
ISBN 13: 978-1707468102


If you want to improve your LIFE with people in less than a month, keep reading


The objective of writing this book is to help people who need a break from all the relationship complications that arise from emotional disorders.


9 strategies to improve your relationships.


Here is what you can expect to find:


• Having a positive attitude at all times, and the importance of respect for other people.


• We will explore "you" and the reasons you should be nice to yourself.


• The accuracy of our mental images of ourselves.


• Strategies for combating negative thoughts such as working out and changing one's environment.


• Some of these strategies include creating a healthy routine, exploring breathing meditations, and getting off social media.


• We will look at some of the most practical anger management strategies and the value they have in maintaining relationships.


• We will talk about respect and kindness and the value they have in relationships.


• We will discuss the value of spirituality


• We will consider the value of managing your emotions and keeping any forms of emotional disorders.


Would you like to know everything you need about maintaining great relationships?


Purchase this book and commence your journey to having and enjoying the best in your relationships.


Just scroll up to the top and click on the Buy Now button.