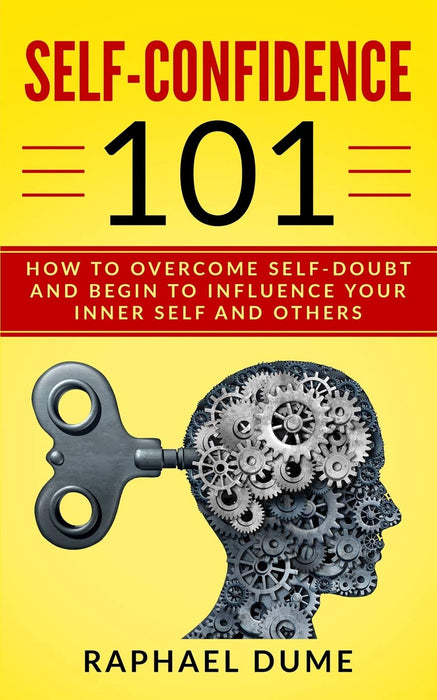 SELF-CONFIDENCE 101: HOW TO OVERCOME SELF-DOUBT AND BEGIN TO INFLUENCE YOUR INNER SELF AND OTHERS
Save

Liquid error (snippets/product-badge line 32): Computation results in '-Infinity'

%
Author: RAPHAEL DUME
Paperback:
Publisher: Independently published
ISBN 10: 1792880669
ISBN 13: 978-1792880667
Hardcover:
Publisher: Lulu.com
ISBN 10: 035946064X
ISBN 13: 978-0359460649
Stop doubting your greatness, build self confidence, and discover a proven approach to living a good life with the effective tools in Self-confidence 101.
If you dream of a better life, now is the time to turn your dream into reality. Self-confidence 101 provides the tools you need and are within your grasp, to design a life that is fulfilling on the deepest levels. 
In this refreshing self-help guide you'll be offer powerful principles of conduct that can rapidly transform your life to a new experience of freedom, true happiness, and love. Self-confidence 101 will help you to build a healthy self-image with step-by-step guidance and easy exercises.
Self-confidence 101 will empower you to create unprecedented levels of happiness and satisfaction in every area of your life. You will learn how to use fear as fuel to move you into action and reach goals that you previously thought were impossible.
Once you go through Self-confidence 101, you'll have the key to confronting your fears, reach your personal and professional goals, and be the person you were meant to be.
By the end of Self-confidence 101 you'll be able to:
Identify and improve self-sabotaging and behaviors that hold you back from going and getting what you want.
Stop feeling overwhelmed and unworthy
Improve your awareness and identity
Learn how to treat and love yourself
Influence your subconscious mind
Increase your emotional intelligence
Raise your self-esteem and self-confidence
Self-confidence 101 will help you close the gap between where you are and where you want to be.