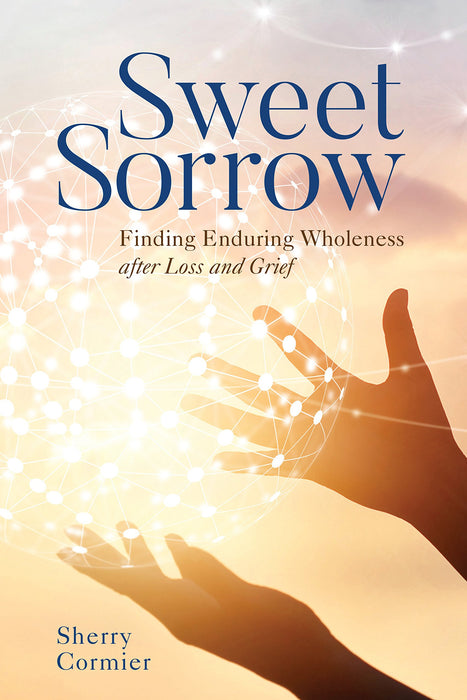 Sweet Sorrow: Finding Enduring Wholeness after Loss and Grief
Author: Ph.D Cormier, Sherry
Publisher: Rowman & Littlefield Publishers
Hardcover:
ISBN 10: 1538114178
ISBN 13: 978-1538114179
How to Grow and Thrive After a Traumatic Loss
Few of us know how to navigate the territory of traumatic loss successfully.
Sweet Sorrow
shows how we can respond and grow stronger from loss and suffering. Written by psychologist and certified bereavement trauma specialist Dr. Sherry Cormier,
Sweet Sorrow
chronicles the decade following the loss of her husband, father, mother, and only sibling.
This carefully considered work provides perspective on grief and healing over time. Its longer-term approach allows readers to have a more complete and accurate picture of the oscillations of grief over time. The book describes not only the immediate agony of the author's losses, but also the process of
starting over and making a successful new life
as a single person full of hope and joy.
Sweet Sorrow
combines the author's psychological expertise and clinical experience with the compelling art of memoir to illuminate the surprising ways in which loss survivors can grow and even thrive to achieve wholeness after heartbreaking, traumatic losses. Using findings from post-traumatic growth, as well as evidence-based psychological approaches,
Sweet Sorrow
illustrates through story and example
Ways for grief survivors to start over
Tools to manage chaos and stress
How to let go, and to heal with new strategies and re-storying
Resources and recommendations for self-care
Tips and suggestions to respond creatively and helpfully to those around us suffering loss
Ultimately,
Sweet Sorrow
is a book of inspiration intended to accompany readers through the processes of loss and grief much like a helpful Sherpa might guide a lost traveler. The author provides critical insight into the journey of death as experienced by a spouse.
Praise for Sweet Sorrow
"A tender narrative and a superb primer on helping others heal in one absorbing book!
-John C. Norcross, PhD
, author of
Self-Help That Works and Changeology"Sherry Cormier takes us through her heart-breaking loss, then gifts us with a reassuring path back to fulfillment"
-Patricia Love
, psychotherapist and author
"Sweet Sorrow
...can help provide comfort to many who ask 'why did this happen to me.'"
-
Ed Jacobs, PhD
"An honest, moving, informative, and methodically crafted text that grips the reader's heart, spirit, and mind."
-Katarzyna Małecka
, author of
Death in the Works of Galway Kinnell
Order your Kindle or hardcover copy of Sweet Sorrow today and you too can begin to find enduring wholeness after loss and grief.