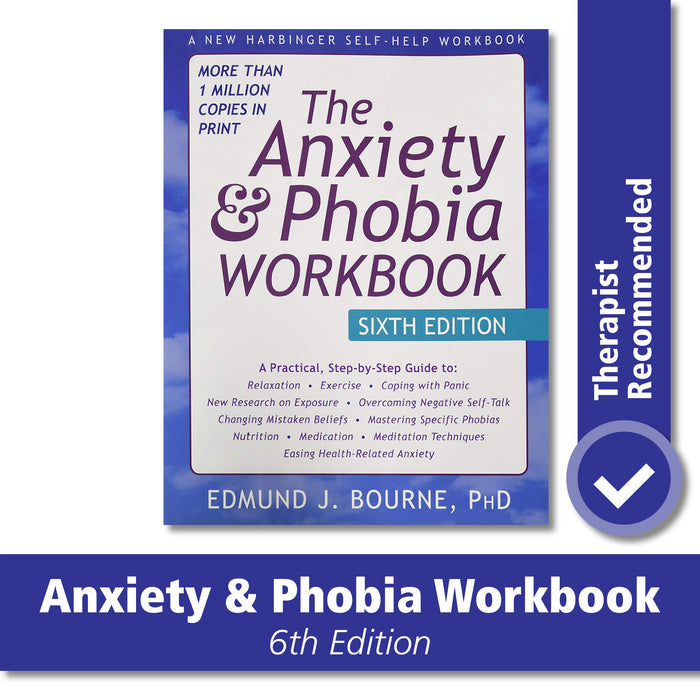 The Anxiety and Phobia Workbook
Author: Edmund J. Bourne PhD
Publisher: New Harbinger Publications
Paperback:
ISBN 10: 1626252157
ISBN 13: 978-1626252158
Now in its sixth edition and recommended by therapists worldwide, The Anxiety and Phobia Workbook has been the unparalleled, essential resource for people struggling with anxiety and phobias for almost thirty years.
Living with anxiety, panic disorders, or phobias can make you feel like you aren't in control of your life. If you're ready to tackle the fears that hold you back, this book is your go-to guide. Packed with the most effective skills for assessing and treating anxiety, this evidence-based workbook contains the latest clinical research. You'll develop a full arsenal of skills for quieting fears and taking charge of your anxious thoughts, including:
Relaxation and breathing techniques
Ending negative self-talk and mistaken beliefs
Imagery and real-life desensitization
Lifestyle, nutrition, and exercise changes
Written by a leading expert in cognitive behavioral therapy (CBT) and a classic in its field, this fully revised edition offers powerful, step-by-step treatment strategies for panic disorders, agoraphobia, generalized anxiety disorder (GAD), obsessive-compulsive disorder (OCD), post-traumatic stress disorder (PTSD), worry, and fear. You will also find updated information compatible with the DSM-V, as well as current information on medications and treatment, nutrition, mindfulness training, exposure therapy, and the latest research in neurobiology.
Whether you suffer from anxiety and phobias yourself, or are a professional working with this population, this book will provide the latest treatment solutions for overcoming the fears that stand in the way of living a full, happy life. This workbook can be used on its own or as a supplement to therapy.