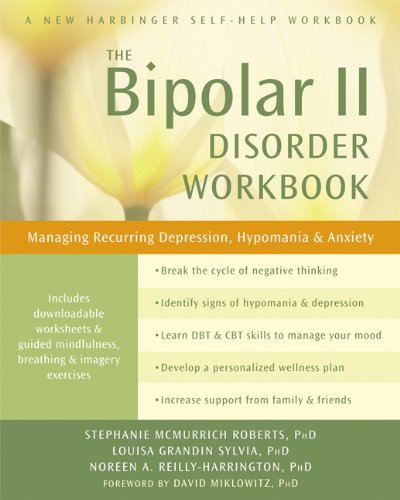 The Bipolar II Disorder Workbook: Managing Recurring Depression, Hypomania, and Anxiety (A New Harbinger Self-Help Workbook)
Author: Stephanie McMurrich Roberts
Publisher: New Harbinger Publications
Paperback:
ISBN 10: 1608827666
ISBN 13: 978-1608827664
Most people have heard of bipolar disorder, a mental health condition that is marked by manic episodes and periods of intense depression. Bipolar II disorder differs from bipolar I in that sufferers may never experience a full manic episode, although they may experience periods of high energy and impulsiveness (hypomania), as well as depression and anxiety. If you have been diagnosed with bipolar II, or even if you think that you may have this disorder, you may be frightened by the highs and lows of your intense emotions. Fortunately, there are proven-effective treatments that can help you find a sense of calm and peace of mind.
Written by an extremely accomplished team of bipolar experts, The Bipolar II Disorder Workbook is designed to help you manage the recurring depression, hypomania, and anxiety that can arise as a result of your condition. The convenient workbook format combines evidence-based cognitive behavioral therapy (CBT), dialectical behavioral therapy (DBT), and other mindfulness-based exercises to help you manage your emotions, track your progress, and ultimately live a happy and more productive life.
This is the first self-help workbook available specifically for individuals diagnosed with bipolar II disorder.