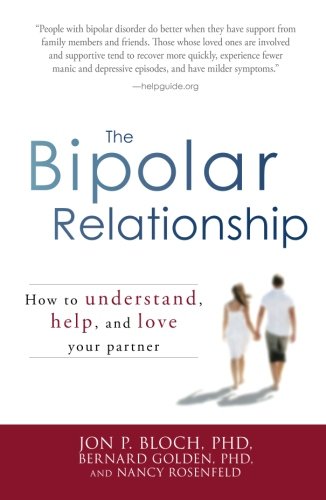 The Bipolar Relationship: How to understand, help, and love your partner
Author: Jon P. Bloch
Publisher: Adams Media
Paperback:
ISBN 10: 9781598699678
ISBN 13: 978-1598699678
Bipolar is a condition that affects peoples' relationships with others as much as it affects their own mental state. When one person in a couple is experiencing the extreme highs and lows of a disorder like this one, it's impossible for their partner not to feel the strain too. Reassuring yet realistic, Dr. Bloch, Dr. Golden, and Nancy Rosenfeld explain what's normal, what's not, what might change, and what definitely won't. They provide information and advice on typical troubling relationship topics, such as:
Communication
Trust and loyalty
Family planning
Finances
Sex
Maintaining a sense of self
By understanding the reality of bipolar and what it means for a relationship, couples will relate to each other better today and plan for a successful future together tomorrow.