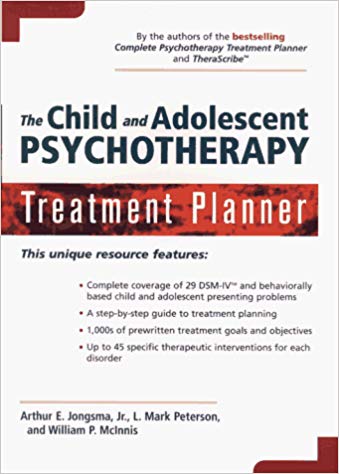 The Child and Adolescent Psychotherapy Treatment Planner
Author: L. Mark Peterson
Publisher: Wiley
Paperback:
ISBN 10: 0471156477
ISBN 13: 978-0471156475
From the authors of the bestseller The Complete Psychotherapy Treatment Planner comes this exciting new resource focusing specifically on the problems encountered in treating younger patients. The Child and Adolescent Psychotherapy Treatment Planner enables mental health professionals to write polished, effective treatment plans that satisfy the demands of HMOs, managed care companies, third-party payers, and state and federal review agencies. Specifically designed to save clinicians hours of valuable time, provide optimum latitude in developing individualized treatment plans, and increase the measurability of objectives, this unique guidebook features:
Complete coverage of 29 DSM-IVTM and behaviorally based child and adolescent presenting problems
A step-by-step guide to treatment planning
1,000s of prewritten treatment goals and objectives
Up to 45 specific therapeutic interventions for each disorder.
1,000s of well-crafted statements describing behavioral manifestations, long-term treatment goals, short-term objectives, and therapeutic interventions
An extensive list of suggested interventions from a broad range of therapeutic approaches—including cognitive, behavioral, family-oriented, dynamic, pharmacological, educational, didactic, and bibliotherapeutic
A simple but comprehensive treatment plan format that can be copied and emulated
This popular treatment planning system will enhance the quality of clinical documentation, bring heightened focus to the treatment process, and help eliminate the rejection of treatment plans by insurers and health management organizations.