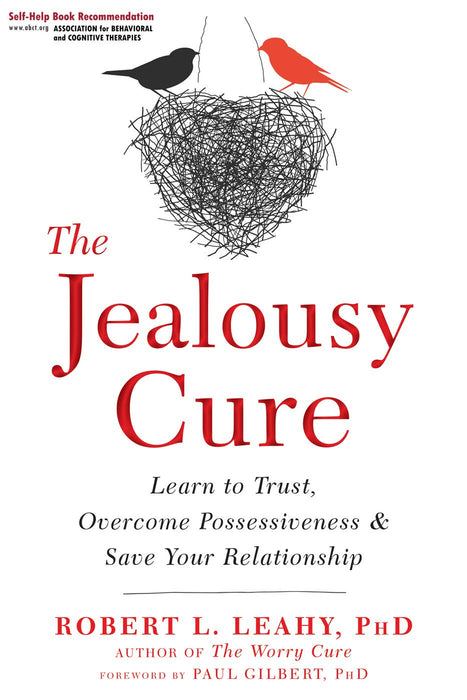 The Jealousy Cure: Learn to Trust, Overcome Possessiveness, and Save Your Relationship
Author: Robert L. Leahy PhD
Publisher: New Harbinger Publications
Paperback:
ISBN 10: 1626259755
ISBN 13: 978-1626259751
"The Jealousy Cure unlocks the positive power of jealousy for happy relationships."
—Foreword Reviews

"Solid counsel for those whose relationships are plagued by jealousy and the individuals it targets."
—Library Journal starred review​

Could jealousy be a positive thing? In this groundbreaking book, Robert L. Leahy—author of the hugely popular self-help guide, The Worry Cure—invites you to gain a greater understanding of your jealous feelings, keep jealousy from hijacking your life, and create healthier relationships.
We've all heard tales of the overly jealous spouse or significant other. Maybe we've even been that jealous person, though we may not want to admit it. It's hard to imagine anyone sailing through life without either having feelings of jealousy or being the target of someone's jealousy. But what if jealousy isn't just a neurotic weakness? What if it signals that your relationship matters to you? In short—what if jealousy serves a purpose?
In The Jealousy Cure, renowned psychologist Robert L. Leahy takes a more nuanced approach to tackling feelings of jealousy. In this compelling book, you'll uncover the evolutionary origins of jealousy, and how and why it's served to help us as a species. You'll also learn practices based in emotional schema theory, cognitive behavioral therapy (CBT), acceptance and commitment therapy (ACT), and mindfulness to help you overcome the shame jealousy can bring, improve communication with your partner, and ultimately make room for jealousy while also making your relationship more meaningful. You will learn that confronting jealousy in your relationship does not have to be a catastrophe, but can redirect you and your partner to build more trust, acceptance, and connection.
We often feel jealous because we fear losing the things or people that matter to us the most. With this insightful guide, you'll discover how jealousy can both help and hurt your relationship, and learn proven-effective skills to keep jealousy in its place.

This book has been selected as an Association for Behavioral and Cognitive Therapies Self-Help Book Recommendation— an honor bestowed on outstanding self-help books that are consistent with cognitive behavioral therapy (CBT) principles and that incorporate scientifically tested strategies for overcoming mental health difficulties. Used alone or in conjunction with therapy, our books offer powerful tools readers can use to jump-start changes in their lives.