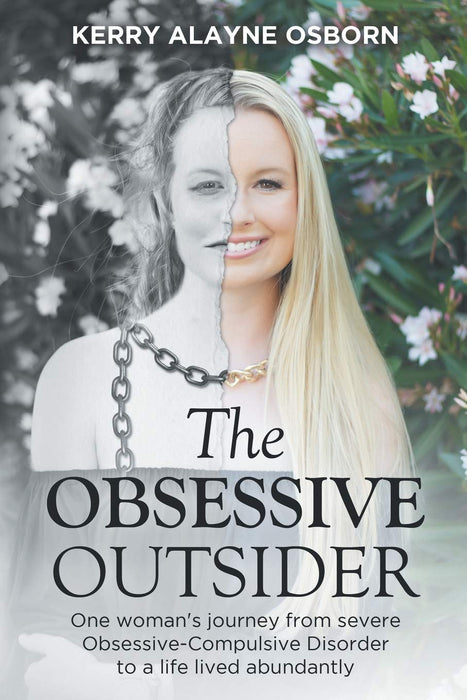 The Obsessive Outsider: One woman's journey from severe Obsessive-Compulsive Disorder to a life lived abundantly
Author: Kerry Alayne Osborn
Publisher: Kerry Alayne Osborn
Paperback:
ISBN 10: 0578577089
ISBN 13: 978-0578577081
Kerry's charmed life is turned upside down as her new diagnosis of Obsessive-Compulsive Disorder sets in, spinning life as she knew it out of control.

Kerry battles through the maze of OCD while trying to live a normal life, all while her mind has different plans. Unlike the common stigma of OCD, Kerry finds herself with a case that is the exact opposite of the known 'perfectionism', and 'cleanliness' oriented disorder.  

Several dark years later, bound in the chains of OCD, the outsider finds herself on a leather couch in a manic state, sitting across from the one therapist who would go on to mentor her to live an abundant life. Once confined to the isolation of her dorm room with no friends, a loss of identity, and betrayal of her own mind, Kerry pushes through to break the foundation of her dire belief system in OCD.
Kerry's infectious, unapologetic and refreshing voice doesn't hold back. In this book, she shares her journey, giving sound advice on how to tangibly do something about OCD. Putting the good, bad and the ugly on display for the world, she chooses to be a face for the misunderstood disorder that almost cost her everything. Kerry is devoted to proving that a life in recovery from the worst of OCD is absolutely possible given the right tools and perseverance.