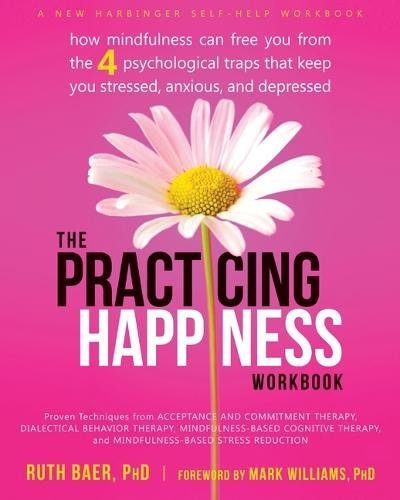 The Practicing Happiness Workbook: How Mindfulness Can Free You from the Four Psychological Traps That Keep You Stressed, Anxious, and Depressed
Author: Ruth Baer PhD
Publisher: New Harbinger Publications
Paperback:
ISBN 10: 9781608829033
ISBN 13: 978-1608829033
Are you looking for a better life—one filled with true contentment and joy? Everyone wants to be happy, but somewhere along the way, we fall into "traps" that prevent us from reaching our potential, our goals, and the lives we want. Sure to be a classic in the self-help genre, Practicing Happiness utilizes a cutting-edge transdiagnostic approach at the forefront of contemporary behavioral therapy to help you break free from these psychological traps, once and for all.
In this important and groundbreaking workbook, internationally-recognized mindfulness expert Ruth Baer discusses the four most common psychological traps that people get stuck in: rumination, avoidance, emotion-driven behavior, and self-criticism. To help you get past these traps, Baer provides powerful, proven-effective mindfulness strategies, exercises, and worksheets to guide you, step-by-step, to the life that you deserve.
Chapter by chapter, you will learn how to apply these mindfulness skills in everyday situations. And with practice, you'll find yourself taking control of your thoughts and feelings in a new way. Instead of falling back on familiar habits, such as self-criticism, you will learn to foster an attitude of kindness and curiosity toward both yourself and the world around you.
By following the exercises and tips outlined in this clear, helpful guide, you will learn to truly transform your mind—and your life!