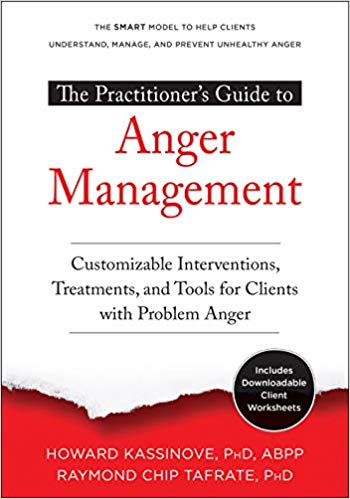 The Practitioner's Guide to Anger Management: Customizable Interventions, Treatments, and Tools for Clients with Problem Anger
Author: Howard Kassinove PhDABPP
Publisher: Impact
Paperback:
ISBN 10: 1684032865
ISBN 13: 978-1684032860
The SMART approach to treating problem anger
As a therapist, you know that every client experiences anger in a different way. That's why it's so important to customize your treatment plan using the best tools available. Based on Howard Kassinove and Raymond C. Tafrate's innovative and modular SMART (Selection Menu for Anger Reduction Treatment) model for treating anger, this groundbreaking professional's manual offers an array of strategies to help you create an individualized treatment plan tailored to your client and their specific needs.
With this powerful, evidence-based guide, you'll learn how to help clients understand and manage unhealthy anger. You'll find motivational interviewing techniques, strategies for engaging clients in therapy, and tools for incorporating different treatment methods—such as acceptance and commitment therapy (ACT), mindfulness, and cognitive-behavioral therapy (CBT)—into your sessions. Also included is direction for case formulation and treatment planning, as well as links to downloadable handouts, worksheets, and sample scripts that can be incorporated into real-world sessions. Using the effective SMART model outlined in this book, you can help your clients gain control over anger, successfully regulate their emotions, and live better lives.
Discover SMART interventions to help clients:
Identify and alter anger triggers
Enhance motivation and awareness
Overcome impulsive urges
Alter lifestyle habits
Build distress tolerance
Improve communication skills