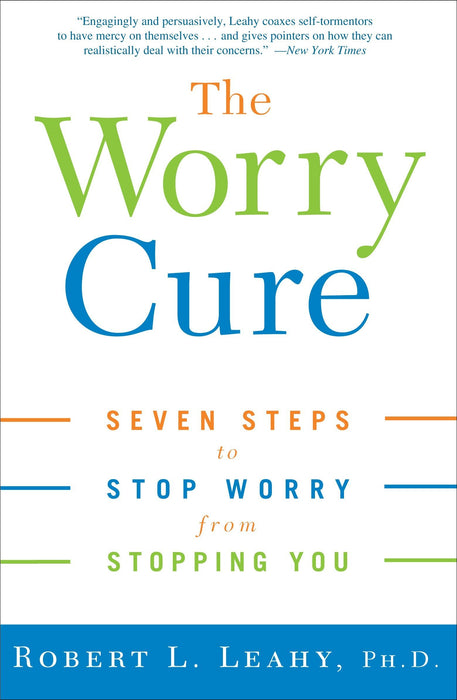 The Worry Cure: Seven Steps to Stop Worry from Stopping You
Author: Robert L. Leahy

Publisher: Harmony

Paperback:
ISBN 10: 9781400097661
ISBN 13: 978-1400097661

Hardcover:
ISBN 10: 1400097657
ISBN 13: 978-1400097654

The comprehensive approach to help you identify, challenge, and overcome all types of worry

You wish you didn't spend as much time worrying as you do, but you just can't seem to help it. Worrying feels like second nature. It's what helps you solve your problems and prevents you from making mistakes. It's what motivates you to be prepared—if you didn't worry, things might get out of hand. Worry protects you, prepares you, and keeps you safe.

Is it working? Or is it making you tense, tired, anxious, uncertain—and more worried?

For more than twenty-five years, Dr. Robert L. Leahy has successfully helped thousands of people defeat the worry that is holding them back. This empowering seven-step program, including practical, easy-to-follow advice and techniques, will help you:

• Determine your "worry profile" and change your patterns of worry

• Identify productive and unproductive worry

• Take control of time and eliminate the sense of urgency that keeps you anxious

• Focus on new opportunities—not on your fear of failure

• Embrace uncertainty instead of searching for perfect solutions

• Stop the most common safety behaviors that you think make things better—but actually make things worse

Designed to address general worries as well as the unique issues surrounding some of the most common areas of worry—relationships, health, money, work, and the need for approval—The Worry Cure is for everyone, from the chronic worrier to the occasional ruminator. It's time to stop thinking you're "just a worrier" who can't change and start using the groundbreaking methods in The Worry Cure to achieve the healthier, more successful life you deserve.