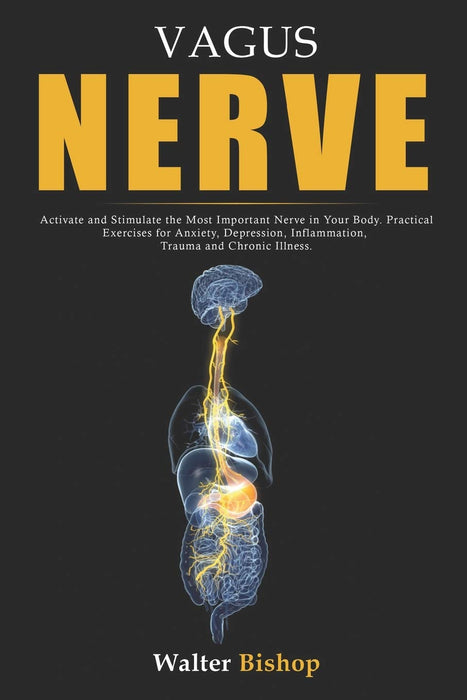 Vagus Nerve: Activate and Stimulate the Most Important Nerve in Your Body. Practical Exercises for Anxiety, Depression, Inflammation, Trauma and Chronic Illness.
Save

Liquid error (snippets/product-badge line 32): Computation results in '-Infinity'

%
Author: Walter Bishop
Publisher: Independently published
Paperback:
ISBN 10: 165673057X
ISBN 13: 978-1656730572
Activate Your Body's Vagus Nerve and Its Natural Healing Abilities!

Would you like to free yourself from anxiety, depression, stomach problems, and other illnesses?

Are you aware that your body contains a natural self-healing system that needs only to be activated to restore damaged tissue and organs?
Meet the Vagus Nerve, a crucial part of your body's nervous system, responsible for both our psychological and physical health. This nerve begins in your brain stem, and spreads through your body, connecting many different organs and performing many important functions.

To activate this nerve and its healing properties, your body and mind need to go through a series of training exercises that will benefit your health enormously! In this book, you'll find simple instructions and a step-by-step guide to awakening the Vagus Nerve, stimulate it, and use it for self-healing.

Here's what this book discusses:

The structure and functions of the Vagus Nerve

The neurobiological background, written simply and understandably
How Vagus Nerve affects crucial organs

Strengthening and stimulating the Nerve
How to use the Vagus Nerve to treat inflammation

Healing techniques for treating cancerous cells, depression, addictions and Alzheimer's
How to stimulate the Nerve to get rid of GERB

Techniques to treat PTSD
And much, much more!

The stimulation of the Vagus Nerve is a scientifically proven method to heal various conditions. It's not about the power of positive thinking or other psychological strategies. It's a straightforward and safe scientific method of kick-starting our body's natural and biological defensive and healing mechanisms.
This guide's step-by-step exercises are easy to understand, super easy to follow, and most importantly, they work! So equip yourself with tools to heal your body, recover from traumas, upgrade your mental capabilities, and free yourself from restricting conditions!

Scroll up, click on "Buy Now with 1-Click", and Get Your Copy Now!