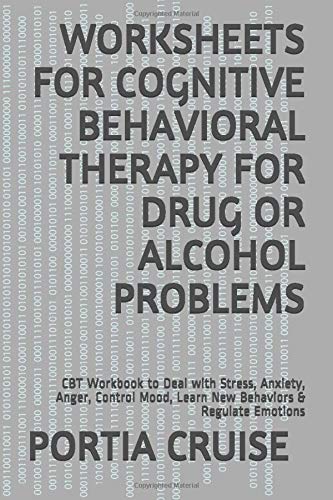 WORKSHEETS FOR COGNITIVE BEHAVIORAL THERAPY FOR DRUG OR ALCOHOL PROBLEMS: CBT Workbook to Deal with Stress, Anxiety, Anger, Control Mood, Learn New Behaviors & Regulate Emotions
Save

Liquid error (snippets/product-badge line 32): Computation results in '-Infinity'

%
Author: PORTIA CRUISE

Publisher: Independently published

Paperback:
ISBN 10: 1707846448
ISBN 13: 978-1707846443

CBT Workbook to Deal with Stress, Anxiety, Anger, Control Mood, Learn New Behaviors & Regulate Emotions

Working on homework assignments between sessions, is a vital part of the CBT healing process. With the step-by-step directions and therapeutic explanations included in this worksheet designed to be simple and yet a powerful, effective tool to help mental health practitioners give their clients better help, a clearer purpose, direction, and beneficial feedback.

If you suffer from any of insomnia, borderline personality disorder, obsessive-compulsive disorder (OCD) psychosis, anxiety, bipolar disorder, eating disorders – such as anorexia and bulimia, phobias, schizophrenia, depression, panic disorder, alcohol misuse or post-traumatic stress disorder (PTSD) and want to be able track the progress of your therapy using CBT in a definite way, then this workbook is for you.

This worksheet will help patients get the most out of therapy by adapting these tools to their specific needs, symptoms, and goals and is designed for patients to be used under the guidance of their therapist.

What to expect in this CBT worksheet:

•A guide on how to use this worksheet correctly in a language very simple to understand
•Designed to be used even by those who have limited education
•Example of possible ways to fill the different columns on the worksheet
•The concept of cognitive-behavioral therapy in practice

This CBT worksheet gives you an opportunity to reflect on your thinking so that you are better able to identify negative thinking and know whether you're reacting out of fear or anger to be better able to guide your thoughts and come up with better alternative thoughts.

This CBT worksheet will help anyone who wishes to learn about the relationship between thoughts, emotions, and behaviors and put them in better control of their senses.