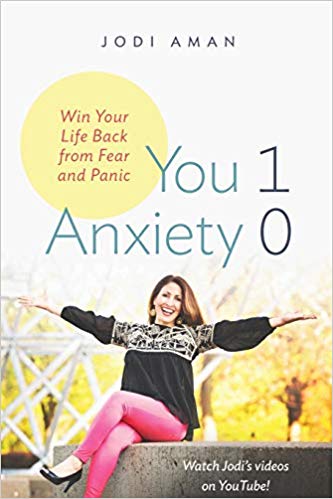 You 1 Anxiety 0: Win your life back from fear and panic
Save

Liquid error (snippets/product-badge line 32): Computation results in '-Infinity'

%
Author: Jodi Aman

Publisher: Ja'Love Books

Paperback:
ISBN 10: 0998561304
ISBN 13: 978-0998561301

The best selling, anxiety-curing book by self-help YouTuber, psychotherapist and anxiety-survivor, Jodi Aman that will help you stop your anxiety for good: Filled with stories and examples of people with the worse anxieties getting past it, outlining exactly HOW they did it in an easy-to-practice step by step guide, You 1, Anxiety 0 has been called "the best self help book you'll ever read."
Has anxiety take up a huge part of your day? Do you worry about bad things happening to you or someone you love?
Do you avoid regular activities because of anxiety? Is it affecting your relationships?
Are you afraid of what people think of you?
Did you wish you didn't have to suffer with anxiety anymore?
Anxiety is Curable! After reading You 1, Anxiety 0 you will:
Understand the biology of anxiety and no longer be afraid of it.Know the lies that anxiety tells so you no longer believe them.Hone your skills and abilities to get rid of anxiety before it comes.
Aman struggled from anxiety and panic for two decades. Once she clawed my way out of it and completely cured herself, she began teaching the practical steps she used with the clients in her psychotherapy practice. They worked!
105,000 problems. Solved!
After working with thirty-five people a week, discussing about three problems an hour, fifty weeks a year for twenty years, Aman's helped people unpack 105,000 problems. Now it is time to help you, too!
Anxiety doesn't play fair. It antagonizes you. It lies to you. It steals away the best parts of you. Don't let it keep cheating you out of happiness! You are too important.
In You 1, Anxiety 0, Aman highlights the ways anxiety manipulates and entraps us, and offers valuable tools you can use to see through anxiety's mind tricks and break free from the prison of fear, stress and doubt. The good news is that anxiety is curable. Even if you've had it forever. Even if therapy hasn't worked. Even if you feel hopeless. This book: helps you understand why you suffer from anxiety explains the biology of fear so you are not longer afraid disempowers anxiety by exposing the tricks it uses shares the skills you need to empower yourself and retrain your brain teaches you self-compassion provides practical daily rituals you can use to keep calm in this crazy world.
You 1, Anxiety 0 makes winning your life back from anxiety practical and easy to follow, giving you tons of examples so you can feel and understand what to do at every level- physical, emotional, mental and spiritual. Exercises are included in every section getting you right on the shortest path to healing from anxiety.