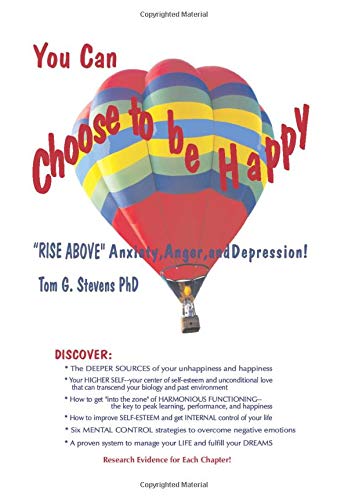 You Can Choose To Be Happy: "Rise Above" Anxiety, Anger, and Depression: With Research Results
Save

Liquid error (snippets/product-badge line 32): Computation results in '-Infinity'

%
Author: Tom G. Stevens PhD

Publisher: Wheeler-Sutton Publishing Company

Paperback:
ISBN 10: 0965337723
ISBN 13: 978-0965337724

You've probably seen many claims about how a book can improve your life. Thousands of people have provided supportive evidence for this book. It gives both clear how to information and evidence for its ideas. Even if you have a history of unhappiness or depression or are facing difficult circumstances, you can learn to be happier. For those who doubt they can affect their emotions, the book provides strong contrary evidence. The factors Dr. Stevens' research identified are specific learnable beliefs and skills--not general, heritable traits. Each chapter teaches some of these factors about how to be happy and successful. The book is for people who value growth and self-development to become happier and healthier. Perhaps you want to improve self-esteem, positive thinking, assertiveness, autonomy, motivation, emotional control, relationships, self-control, or achievement. Chapters deal with these issues, but also deal with core issues underlying these problems. This book is for people who are serious about being happy. No matter how difficult your past history or current circumstances, striking insights into the causes of emotions can empower you to rise above negative emotions, and you can choose to be happy. Dr. Stevens combines expertise of 31 years as a psychologist with a philosophical-spiritual approach and his personal experience to make this an important book about achieving happiness. His research provides crucial, detailed support for these ideas not found in most self-help books. Yet, his clinical and personal experience helps him provide practical, detailed self-help advice. For more help, take his extensive, free online, Success and Happiness Attributes Questionnaire (SHAQ), based upon the book. The well-known author and PBS speaker, Dr. Wayne Dyer wrote that this book is, "A thorough presentation, rich in detail, yet very reader friendly. I enthusiastically endorse Tom Stevens' book and recommend it as a powerful tool for human development."