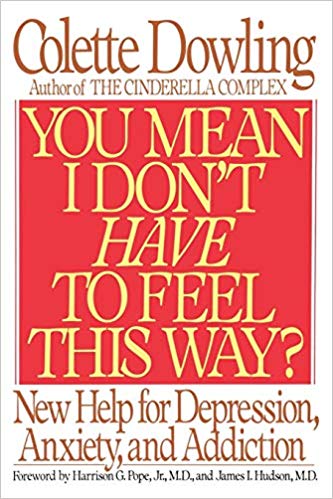 You Mean I Don't Have to Feel This Way?: New Help for Depression, Anxiety, and Addiction
Save

Liquid error (snippets/product-badge line 32): Computation results in '-Infinity'

%
Author: Colette Dowling

Publisher: Bantam

Paperback:
ISBN 10: 055337169X
ISBN 13: 978-0553371697

"A down-to-earth, hopeful, useful--and, from  the point of view of this 'recovered'  depressive--accurate account of how to treat  depression."--Mike Wallace, 60  Minutes.



Colette Dowling watched depression  destroy her husband's life and leap to the next  generation to nearly destroy her daughter's--until  dramatic help was found. Now her ground-breaking book  offer the same lifesaving help to the millions who  still suffer depression and related  disorders--which include panic, anxiety, phobias, PMS, alcohol  and drug abuse, bulimia, migraine, and obesity.  You Mean I Don't Have To Feel This Way?  documents the latest research that links  depression and related disorders to a physical cause and  shows why willpower, understanding, and  psychotherapy so often fail to work. It explains the  state-of-the-art medical treatments that can bring about  dramatic improvement--and often full recovery--within  weeks. This important book includes: startling new  links between eating disorders, addiction, and  depression. How to recognize the symptoms of  depression and anxiety disorders. Vital information about  new treatments for depressed children and  adolescents. A guide to breakthrough drugs for treating  mood, anxiety, and eating disorders. The newest  research on the use of antidepressants to prevent  substance-abuse relapse. How to find expert help and  evaluate the treatment you are given. Upbeat,  filled with hope and warmth, Colette Dowling's book  will change minds and save lives.